ESPN 100: Parker on top, then start the debate
Dave Telep
ESPN RecruitingNation
After a long summer where our staff covered events from coast to coast, here is a look at our updated player rankings. Read on to check out breakdowns of the ESPN 100, ESPN 60 and ESPN 25, as well as Paul Biancardi's analysis on a half dozen prospects who made significant jumps in the rankings.
To continue reading this article you must be an Insider
Insider
Roundtable Discussion
Which player did you fight for the most?
Facey
Paul Biancardi: I saw power forward Kentan Facey (Glen Head, N.Y./Long Island Lutheran) at the adidas Invitational, and he was a steady factor on the glass and in the paint, blocking shots. He is long, lean and athletic, and possesses the ability to grab rebounds outside his area. He has been competing in the United States for only two years, and is picking up on the speed and physicality of the of the game. His talent and athletic ability caught my attention on more than one occasion, and his confidence is growing. Now it is up to him to build on those performances.
Adam Finkelstein: Ben Bentil (Middletown Del./Saint Andrew's) was one of the frontcourt prospects for whom I advocated in the ESPN 60. His case was an easy one to make because he's produced all spring and summer, and done so while playing against top competition on the Under Armour circuit. He also has the physical upside to project well for the next level with a powerful body, bouncy athleticism and a strong motor.
Thomas
Dave Telep: There's something about Matt Thomas (Onalaska, Wisc./Onalaska). Shooters often get put in a box and perceived as great at one thing but limited in other ways. To me, Thomas samples enough traits as a scorer and decision-maker that his value is higher than that of most perimeter threats. The Iowa State commit is a competitor, and it makes sense that Fred Hoiberg saw so much of himself and vice versa in Thomas. I know it's high praise, but to me his stroke looked elite, and I wouldn't be surprised if he turned into the J.J. Redick of Iowa State. When you watch him play, you walk away knowing he has an aptitude that matches his shooting prowess.
Joel Francisco: Austin Nichols (Eads, Tenn./Briarcrest) is one of the fastest-rising players in the country. I got my first look at him at LeBron James Skills Academy and I came away thoroughly impressed. Long arms and ultra-skilled describes the bouncy 4-man. His footwork is impeccable, and he can score in a variety of ways inside and out. Once he gains strength, he should turn out to be one of the elite college players and a future pro.
Young
John Stovall: I fought for shooting guard James Young (Troy, Mich./Troy). He is ranked No. 5, but in my opinion, he is the best pure scorer in the 2013 class and should be in the top three. It is not a big deal since you could make an argument for any of the top six being the best player in the country; Parker, Randle, the Harrison twins, Gordon and Young are all elite, one-and-done players. All of them have distinct and defineable skills that make them special. However, the ability to put the ball in the basket generally translates to every level, and some players are just blessed with the ability to do that. Young is one of those players.
Reggie Rankin: Eric Mika (Highland, Utah/Lone Peak) is a tough and very physical post player who is productive and competes at a high level on the both ends of the floor. The BYU commit is a terrific area rebounder and has sneaky, above-the-rim athletic ability. He also has excellent hands and good footwork in the low post with his back to the rim, where he scores over his left shoulder and attacks his defender. Mika also runs the floor, and can catch and finish on the move extremely well for his size. He will be even more dangerous after he improves his ability to face and hit the midrange perimeter jumper on a consistent basis. Mika seems to be a good teammate as well. The big fella has great upside and should be an immediate impact player for the Cougars.
Nichols
Mike LaPlante: The evolution of Austin Nichols (Eads, Tenn./Briarcrest) has been fun to watch and the more you see him, the more you appreciate the subtleties of his play. He is the type of player coaches love because he impacts a game in so many areas. Nichols, who is smart and focused, is a consistent producer who scores and rebounds the ball at a high level, but more importantly he makes others around him better. He is well-schooled in the low post and understands the nuances of positioning and sealing like a veteran player. Although Nichols has continued on a steady rise up the charts during the spring and summer, his ceiling is still high as he continues to improve each time we see him.
---
Who was the best player you saw in July?
Paul Biancardi: I saw Michigan SG commit Zak Irvin (Fishers, Ind./Hamilton Southeastern) numerous times at the adidas Invitational in Indianapolis. He has a combination of athletic ability, skill and feel for the game that helped him dominate the action, but he utilizes his different skill sets to operate within the flow of the game. His long-range jumper is accurate, and if a defender gets too close, he will drive to the basket with a long first step. Plus, he has the size to score over defenders in the painted area. When he gets out in transition, he can spot up for a jumper or cut to the basket for a high-flying finish. He also moves without the ball by cutting and using screens to free himself. Overall, he is a clutch performer, arguably the best player in Indiana and the player who best helped his team win all summer.
Wiggins
Joel Francisco: When July came to an end, I came to the conclusion that the three best prospects in high school basketball are Andrew Wiggins, Julius Randle and James Young -- with Wiggins being No. 1. I saw Wiggins at the LeBron James Skills Academy in Las Vegas, and he has that lethal combination of elite athleticism, length and budding skills. His first step is the best I've seen in a very long time, as he can get to the rim in a blink of an eye. If a defender backs off him, he has the ability to knock down the 3-pointer with a solid amount of consistency. In addition, he exhibited the willingness to defend multiple positions. With all that being said, he still has room for growth (developing his left hand and jump shot).
Dave Telep: When the spotlight is cast on you and signature performances are required, you either pass the test or move to the back of the line. When it comes to prospects on the high school level, the line forms behind Andrew Wiggins. For starters, he has the pedigree, as his father was a stout performer at Florida State. Wiggins is piecing together a blend of explosive athletic ability and a diverse offensive repertoire. He's as likely to stuff back an offensive rebound as he is to hammer down a midrange jump shot. He's an improving shooter with a high ceiling, and this summer was a coronation.
Randle
Mike LaPlante: Julius Randle, who plays with the Texas Titans, was the best player I saw this summer because of the consistent energy he brings and his ability to produce, even when opponents are able to come up with a game plan for him. Although he is still learning how to play, he possesses a unique combination of size, skill and athleticism that elevates him above his peers. The explosive lefty, who reminds a lot of scouts of a Zach Randolph-type, can be a dominant rebounder who scores inside and out. Despite the sometimes-unrealistic expectations, Randle seems to perform his best in the big games versus the top competition, and after seeing him at the AAU Super Showcase in Lake Buena Vista, Fla., he will be in the conversation as the top player in the 2013 class all season.
John Stovall: After seeing Andrew Wiggins at the Nike Peach Jam in North Augusta, S.C., he is playing himself into being called one of the best high school players in recent memory. What make him so good is his quickness, explosiveness and pure athletic ability. His first step allows him to get past any opponent, and his second leap is so quick, he is back up around the rim while most players are still on the ground. Wiggins has a very good motor and is very productive. He also has improved a great deal as a shooter and has range to 22 feet. He is, in my opinion, the best high school basketball player in America right now.
Harrison
Reggie Rankin: Aaron Harrison always has been able to knock down jumpers with range in addition to his ballhandling, passing, ability to attack the rim and willingness to not only seek contact but finish through it. However, he has extended his range to the NBA line and is more consistent. Harrison has put in extra time on his shot, and it has paid off. When I saw him at the Summer Jam in Milwaukee, he had many impressive shooting performances that took his already-elite game to another level, which will make him even more unstoppable on the high school level and an immediate impact player on the college level.
Adam Finkelstein: I saw Andrew Harrison early in July at the Reebok Breakout Camp and the Showdown Challenge Championships in Philadelphia, meaning I got to watch him in both an individual and a team-based setting. For me, there just isn't another guard in the country who can do as many different things as Harrison can. His size and strength are unmatched at the point, he's lethal creating off the dribble for himself and his teammates, and he has improved his jumper so that if defenders try to give him a big cushion, he'll bury them with pull-up 3-pointers. Defensively, he has all the tools to develop into a game-changer on that end of the floor as well. I was fairly critical of his outward attitude when I previously saw him in April, but the reality is he's starting to show more leadership potential, while his demeanor is a big part of what allows him to intimidate his competition on such a consistent basis.
Dave Telep's Rankings Breakdown
Coaches In Attendance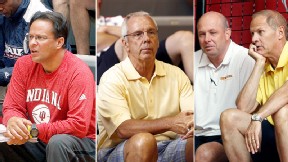 Here's a look at which coaches we saw on the trail during the July evaluation periods and whom they were targeting:
• Third July evaluation period (July 25-29)


• Second July evaluation period (July 18-22)


• First July evaluation period (July 11-15)

On The Road This Summer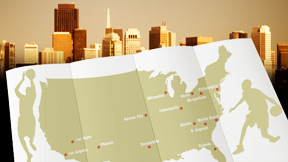 Here's a look at the events we covered in July:
• LeBron James Skills Academy (Las Vegas)


• Reebok Breakout Challenge (Philadelphia)


• Adidas Invitational (Indianapolis)


• Big Shots (Myrtle Beach, S.C.)


• Double Pump Tourney (Anaheim, Calif.)


• Pangos Sweet 16 (Long Beach, Calif.)


• Hoop Group Elite Camp (Philadelphia)


• Atlanta Hardwood Jam Fest (Atlanta)


• Summer Classic East (King of Prussia, Pa.)


• Summer Jam Fest (King of Prussia, Pa.)


• NY2LA/UA Summer Jam (Milwaukee)


• Peach State (Aiken, S.C.)


• Nike Peach Jam (North Augusta, S.C.)


• Best of Summer Tourney (Anaheim, Calif.)


• Cream of the Crop (Garden Grove, Calif.)


• Fab 48, adidas Super 64 (Las Vegas)


• Live in the A.C. (Atlantic City, N.J.)


• Southeast Elite Showcase (Suwanee, Ga.)


• Buzzer Beater Classic (New York)


• Super Showcase (Orlando, Fla.)


• AAU Nationals (Orlando, Fla.)