The RN Top 10 will appear throughout the camp and combine season and rank prospects based strictly on their on-field performance at that particular event. It does not reflect what their overall prospect ranking will be when the 2014 rankings are unveiled this spring.
MIAMI -- While the group in attendance at the Miami NFTC was smaller than that of Orlando the day before, there was no shortage of talent present at Berry University Sunday. Recruiting Nation had to make some tough decisions in picking out the top performances of the day, but these 10 prospects made the strongest case to make the list. Five of the seven prospects invited to The Opening following the camp made the list.
---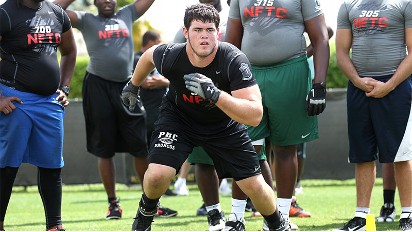 Wellington (Fla.) Palm Beach Central | OL | 6-6, 275
The offensive line group, led by McDermott, Trevor Darling and Isaiah Wynn, was physically imposing and dominated the majority of the 1-on-1 battles on Sunday.
McDermott showed raw, brute, physical strength. If he gets locked onto you, you are going to have a hard time dealing with him. He might not be as flexible as some of the other guys, so he has to be very conscious of his pad level coming out of his stance so he doesn't become a waist-bender. He has to sit back, but he carries his weight very well.
McDermott is approaching 20 offers and looks to be one of the most sought-after offensive linemen in the Southeast.
---