The RN Top 10 will appear throughout the camp and combine season and rank prospects based strictly on their on-field performance at that particular event. It does not reflect what their overall prospect ranking will be when the 2014 rankings are unveiled this spring.
CHARLOTTE, N.C. -- With wind gusts, a constant downpour and sub-40-degree temperatures, the camp conditions at the Charlotte NFTC were far from favorable. Prospects were tested not only in the traditional tasks such as positional drills and one-on-one competition, but the 205 participants also experienced some adversity given the weather, which is often a factor in football.
---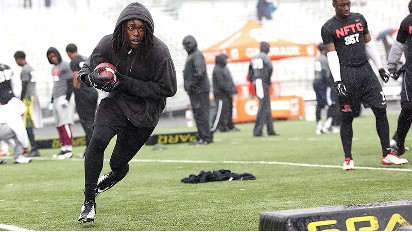 Goose Creek (S.C.) High School | RB | 5-10, 175
After splitting time in the backfield and at wide receiver with 2013 ESPN 150 prospect Tramel Terry, Kinlaw is set to be the featured weapon and is considered one of the best, if not the best, running backs in the Palmetto State for 2014. Kinlaw, who visited Tennessee last month and is very high on the Volunteers, took home running back MVP honors Sunday.
Tom Luginbill's take: He's a glider. I saw him last year as Tramel Terry's teammate and he really showed out. He has a nice blend of deceptive power and smooth elusiveness.