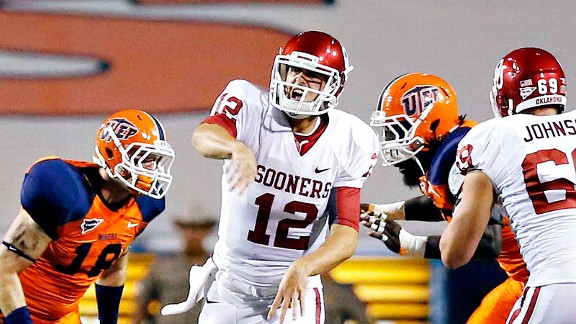 Jim Cowsert/US PresswireLandry Jones and the Sooners weren't sharp in the win over UTEP, but they'll be playing at a faster pace vs. their Week 2 opponent, Florida A&M.
Florida A&M at OU: Sooners upping tempo
NORMAN, Okla. -- Thanks to its no-huddle, hurry-up offense, Oklahoma has averaged close to 84 plays per game through the last two seasons. But last weekend in El Paso, the Sooners' usual fast-paced attack was relatively slow as it got off only 73 plays. In fact, OU upped the tempo on just a couple of possessions, instead going with a more deliberate style for much of the game.
To continue reading this article you must be an Insider
Insider
PREVIEW: Florida A&M vs. OU
KEY STAT: 4
By Jake Trotter
Fullback Trey Millard and running back Roy Finch combined for just four touches against UTEP. Last season, Millard and Finch averaged 7.0 and 5.5 yards per carry, respectively. Before the season, Bob Stoops said he'd like to see Millard get double-digit touches in a game after he averaged less than four last season.
The Sooners also moved Finch to the slot during the preseason with the idea of getting him on the field more often, though co-offensive coordinator Jay Norvell said after the UTEP game that Finch's practice habits had not warranted playing time.
OU PLAYER TO WATCH
By Jake Trotter

Trey Metoyer
In his debut, wide receiver Trey Metoyer did not have his best game. The true freshman phenom caught four passes for only 21 yards, and struggled with his route running downfield and perimeter blocking. Metoyer could use a confidence-boosting performance before Big 12 play begins.
SOONERNATION PREDICTIONS
Brandon Chatmon
: Oklahoma 56, Florida A&M 6
Bob Przybylo
: Oklahoma 42, Florida A&M 9
Jake Trotter: Oklahoma 49, Florida A&M 3
Read the staff's full predictions here.

QUOTE OF THE WEEK
"We didn't really leave El Paso with a bad taste in our mouth. We just knew we didn't execute the way we wanted to -- on both ends of the ball."
-- Safety Tony Jefferson on OU's 24-7 win over UTEP.
OU's reasons for concern
[Oklahoma's] 24-7 victory against the UTEP Miners was a woeful showing by a team that came into the season's opening weekend ranked No. 4 in the country in both the AP and USA Today polls and is seen as the favorite to win the Big 12 title.
That score was actually somewhat misleading, as Oklahoma was leading by a mere three points headed into the fourth quarter and could easily have been behind on the scoreboard were it not for three missed field goals by two UTEP kickers.
At first glance, this rough beginning might be chalked up to the type of sluggish start a lot of teams go through during their first creampuff matchup of the season. But the truth of the matter is that the Sooners' passing game was out of synch in just about every manner imaginable, and quarterback Landry Jones continued an alarming trend from last season that could continue to haunt Oklahoma in 2012.
Oklahoma had two dropped passes, had two receivers fumble the ball (both were recovered by the offense) and made two blocking mistakes on screen passes that forced those plays to lose a combined 6 yards.
Read KC Joyner's full story here.

STORIES OF THE WEEK

Some of the top OU stories from SoonerNation in case you missed them:
• Sooners have struggled in openers before

• Damien Williams makes instant impact

• Can OU correct its special teams?

• Roy Finch falls out of favor

• Was UTEP game a wake-up call?

• Roundtable: How many touches will Roy Finch end up with this season?

For more discussion, check out our forum

.
The Recruiting Trail

Sooners recruiting tidbits:
• This week's Sooner Intel

• Arizona State commit visiting OU this weekend

• Sooners offer UCLA offensive tackle commit

• Former Texas DT signee Quincy Russell on OU radar

• Calif. safety Tyler Foreman sets visit

• Q&A: 2014 in-state receiver Jaelon Walker

For more, check out RecruitingNation