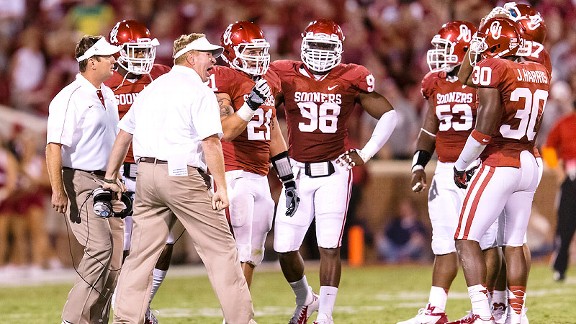 Cal Sport Media via AP ImagesOklahoma's defense has been stellar through five games. Can it shutdown the Jayhawks?
Kansas vs. OU: History says no letdown
NORMAN, Okla. -- Coming off such an emotional win over Texas, the Sooners are due for a letdown, right? Especially with Kansas coming to town, a week before an epic clash with Notre Dame that could essentially serve as a national quarterfinal?
To continue reading this article you must be an Insider
Insider
Sooners producing big runs
By Brandon Chatmon
Although the Sooners are just five games into their 2012 season, they have already proven to be a big-play running team. And the Sooners have two newcomers to thank for their game-changing runs this season.
The first name is obvious. Junior college transfer Damien Williams has brought a big-play ability the Sooners offense lacked in 2011. He has 10 runs over 10 yards, including 95-, 89- and 65-yard touchdowns. His 95- and 89-yard gallops already rank among the top 10 longest touchdown runs in OU history.

Damien Williams
The second newcomer has gone under the radar with his contributions. Penn State transfer Justin Brown has helped the mindset of OU's receivers, as the group has become better blockers since the arrival of the veteran receiver.
"I told Justin, 'You have to carry the torch on this, you have to work your tail off you have to be the example on this,'" receivers coach Jay Norvell said. "Being our resident Big Ten guy, he's used to blocking a lot. He's been a great influence."
From Kenny Stills' block against Texas to spring Williams on his 95-yard touchdown run to Durron Neal's pancake block against Florida A&M, which freed Roy Finch for a 15-yard touchdown gallop, it's paying off. OU has 40 runs of 10 yards or more in five games this season (eight per game). By comparison, the Sooners had 55 runs of 10 or more yards in 13 games in 2011.
"We stress that a lot around here," freshman receiver Sterling Shepard said. "Because that can lead to 50-yard runs and touchdown. Every day Coach Norvell has drills for us to block. We do it on a daily basis."
And Williams and the Sooners running backs have been the beneficiaries.
KEY STAT: 48.6 percent
By Brandon Chatmon
According to cfbstats.com, the opponent's completion percentage in the second and third quarter against the Sooners is 48.6 percent. It's a sign of the improvement of OU's passing defense under Mike Stoops and its ability to make changes on the fly during games. OU has allowed 210 passing yards in the second quarter and 137 passing yards in the third quarter. OU ranks No. 1 nationally in both categories.
OU PLAYER TO WATCH
By Jake Trotter

Jalen Saunders
Fresno State transfer
Jalen Saunders
made his debut last week against Texas and didn't disappoint with 54 yards receiving on two catches. Saunders figures to be an even bigger part of the attack against Kansas as the Sooners look to transition the speedy slot receiver more and more into the offense.
SOONERNATION PREDICTIONS
Brandon Chatmon
: Oklahoma 49, Kansas 13
Bob Przybylo
: Oklahoma 48, Kansas 16
Jake Trotter: Oklahoma 55, Kansas 10
Read the staff's full predictions here.

QUOTE OF THE WEEK
"It's pretty consistent each year: one team will be in there with one loss. In 2008, we went to the national championship with one loss and lost a tight game. We didn't get blown out by K-State either, so it's kind of the same situation that we're in now. We just have to keep this momentum and keep building on it."
-- QB Landry Jones
STORIES OF THE WEEK

Some of the top OU stories from SoonerNation in case you missed them:
• Bell running to Sooners record book

• Saunders goes from scout team to first team

• Mike Stoops has OU defense turned around

• OU defensive line makes a stand

• Midseason report: Special teams

• Sooners find a spark in running game

• Five storylines: Kansas vs. OU

• Ranking OU's top running quarterbacks

• Ranking OU's top receiving corps

• Roundtable: Who will be Oklahoma's third receiver?

For more discussion, check out our forum

.
The Recruiting Trail

Sooners recruiting tidbits:
• This week's Sooner Intel

• OT Dowling fulfilling promise to visit OU

• Dominique Alexander shocked by OU offer

• Q&A: 2014 ATH Cedric Dale on the RRR

• Q&A: 2014 TE Koda Martin talks favorite

• LB Mitchell ready to play recruiting game

For more, check out RecruitingNation