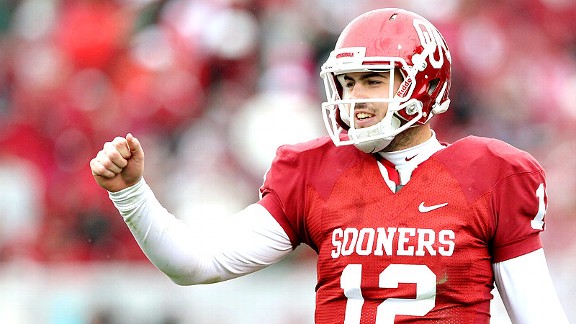 Matthew Emmons/US PRessworeQuarterback Landry Jones' senior season begins on the road at UTEP on Saturday night at 9:30 CT.
Oklahoma at UTEP: Sooners thin on D-Line
To continue reading this article you must be an Insider
Insider
KEY STAT: ROY FINCH'S TOUCHES
By Brandon Chatmon
Running back Roy Finch led the Sooners with 156 touches in 2011. And OU is looking to get the junior more involved this season.
It starts Saturday when OU will unveil Finch in the slot, allowing the 5-foot-8 dynamo to use his quickness, speed and open-field excellence to create mismatches in the secondary and big plays for the Sooners offense. OU has a package designed to get Finch involved so expect him to get 5 to 10 touches per game in 2012.
INTERVIEW: RB DAMIEN WILLIAMS
OU PLAYER TO WATCH
By Jake Trotter

Dominique Whaley
All eyes will be on running back Dominique Whaley, who is returning from a broken ankle. Bob Stoops says Whaley is healthy. Whaley himself says the same. But no one will know for sure until Whaley proves he's back in a game.
SOONERNATION PREDICTIONS
Brandon Chatmon
: Oklahoma 34, UTEP 13
Bob Przybylo
: Oklahoma 45, UTEP 10
Jake Trotter: Oklahoma 44, UTEP 9
Read the staff's full predictions here.

QUOTE OF THE WEEK
"Everyone is excited. Everyone is tired of talking about it. The players are tired of practice I think we're all a little frustrated at this point. I'm ready to see how our players perform when they get out there in front of the lights."
-- Defensive coordinator Mike Stoops on the Sooners' season opener at UTEP.
OU's Most Important Players
STORIES OF THE WEEK

Some of the top OU stories from SoonerNation in case you missed them:
• Sooners aim to learn from inconsistent 2011

• Landry Jones reminded of career turning point

• Roundtable: Who is the second most important Sooner?

• Justin Brown leads OU receiver transformation

• Now's the time for DE R.J. Washington

For more discussion, check out our forum

.
The Recruiting Trail

Sooners recruiting tidbits:
• This week's Sooner Intel

• Move to safety pays off for Hatari Byrd

• TE Beau Sandland talks official visit

• Q&A: In-state linebacker Jordan Evans

For more, check out RecruitingNation