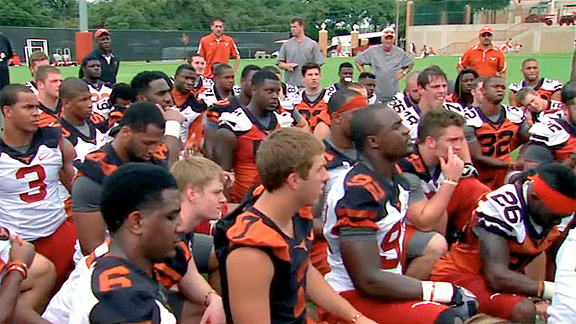 Courtesy of Longhorn NetworkDo we have your attention? Preseason camp is over and a few things have stood out for Texas.
Young players bolstering secondary
Each week during fall camp HornsNation will compile our notes and observations from the week of practice to further break down the action and learn about the 2012 Longhorns.
To continue reading this article you must be an Insider
Insider
Frosh 'Backers Step Up
By Max Olson
All spring and fall camp Texas has worried about the depth behind its starting linebackers.
However, a pair of freshmen -- Peter Jinkens and Dalton Santos -- have stepped up their games to earn some playing time and put them in the position to become valuable backups.

Read the full story here.
Texas Ten: Preseason
This isn't just a season-long debate about which guy is UT's MVP. These rankings recognize breakthrough performances and which players -- anyone from stars to special teamers -- are becoming difference-makers.
For this week's preseason rankings, the criteria is a tad different: Which players are irreplaceable? Who can Texas not afford to lose due to their pure talent, critical role, leadership or even the depth behind them?

Read the full story here.
Ash wins QB battle
David Ash has won the Texas QB competition. For now. However, Mack Brown has stated that both Ash and Case McCoy will play against Wyoming. David Ubben writes that Ash has the weapons around to him to grow into a good starting quarterback, if given time. The Texas coaches picked Ash, now it's time to stick with him.
Read the full story here.
LHN: Inside the depth chart
The Recruiting Trail

Longhorns recruiting tidbits.

• Caleb Benenoch sets decision

For more, check out RecruitingNation
News Of The Week

Some of the top Texas headlines in case you missed them:

• Freshmen litter Texas depth chart

• Trio of RBs running wild package

For more discussion, check out The Tower