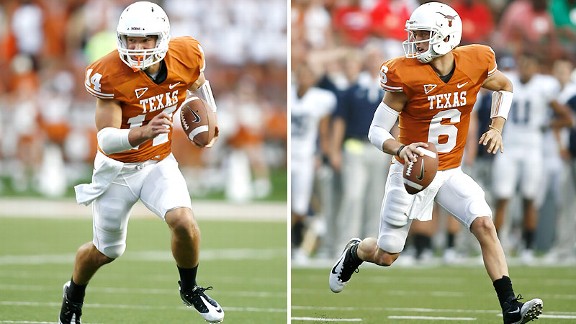 Getty ImagesDavid Ash (left) will start on Saturday vs. Wyoming but Case McCoy will get some snaps.
Wyoming-Texas: 'Both those guys' to play
In answering three questions about quarterbacks David Ash and/or Case McCoy, Texas co-offensive coordinator Bryan Harsin used the phrase "both those guys," or some variation 11 times.
To continue reading this article you must be an Insider
Insider
STATS: GOING DEEP
By Carter Strickland
David Ash is said to have the bigger arm. But he does not produce better stats when it comes to throwing the long ball.
On passes of 15 yards or more, Case McCoy had a higher completion percentage (39 to 32), pass efficiency rating (173.8 to 106.4), threw more touchdowns (three to two) and fewer interceptions (two to four).
Read our stats that matter here.

WHICH FRESHMEN WILL PLAY?
HORNSNATION PREDICTIONS
Sean Adams
: Texas 43, Wyoming 13
Max Olson
: Texas 45, Wyoming 10
Carter Strickland
: Texas 42, Wyoming 10
William Wilkerson: Texas 38, Wyoming 6
Read the staff's full predictions here.

STOPPING SMITH
By Carter Strickland
Wyoming quarterback Brett Smith threw more touchdown passes (20) than any freshman in the country last season. And his arm might not be his best attribute.
Texas secondary coach Duane Akina is more worried about Smith's legs.
"He is very productive," Akina said. "You have to defend the quarterback run game."
The Texas defense also has to trust its reads. Wyoming will bring multiple formations in an effort to confuse the defense or lull it into thinking that Smith does not have to be spied on quite as vigilantly in a certain play.
"They do a lot of things formation-wise that can give him some good angles and some good numbers," Akina said. "He can also keep himself alive with the throwing game, so there are times you may have to cover him twice. You may have initial coverage, but he can extend plays with his legs and create offense down the field."
FOUR DOWNS: BUY OR SELL?
By Sean Adams

Sean Adams
The Texas Longhorns as a stock was being shorted in 2010 and was not being traded at all save for the strictest of fans in 2011. I went through most of the spring and even through most of the fall camp with the stock on a hold.
But I'm liking this defense more and more, understanding that special teams could be special again and understanding that up front on both sides of the ball this team is going to be at the very top of the Big 12. That makes this team a buy for me.
Read Adams' four downs here.

ASSESSING THE QB SITUATION
Stories Of The Week

Some of the top Texas stories from HornsNation in case you missed them:

• Hot Button: Should Texas play two QBs?

• Texas receiver Mike Davis wants to be 'Magic'

• Longhorns putting emphasis on special teams

• David Ash more confident, prepared in Year 2

• WR John Harris knows it's time to step up

• Texas defense embracing high expectations

• Texas still searching for capable tight end

For more discussion, check out The Tower

The Recruiting Trail

Longhorns recruiting tidbits:

• Size, speed and pedigree have made Nick Watkins a top 2014 prospect

• Donald Catalon lets actions speak volumes

• Texas offers 2014 offensive tackle

• Three-star WR Devon Allen lands Texas offer

• Texas reaches out to WR Torii Hunter Jr.

• Q&A: 2014 safety Edwin Freeman

For more, check out RecruitingNation