The final day in "The House That Ruth Built"
September, 20, 2008
09/20/08
11:37
PM ET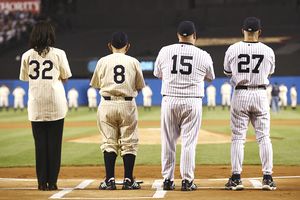 8:35 p.m. ET:
A final thought before Andy Pettitte throws the first pitch of the game, about 10 minutes late … While the pregame ceremony for the All-Star Game rang hollow, a vain attempt at forced sentiment, this one wasn't. It was genuine, real, true. Why? Because it was personal. They trotted out many of the old Yankees, or their relatives, wearing uniforms with numbers that were so familiar to the fans. There's something uniquely wonderful about watching a son, like a Randy Maris, take his dad's former spot in right field, seeing in that moment what the place would have been like through his father's eyes.