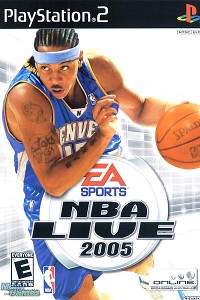 20. NBA Live 2005
Systems: PlayStation 2, Xbox, Gamecube
Year Released: 2004
Superstar Status: The best slam dunk competition ever seen in a video game, "NBA Live 2005" featured players bouncing the ball of the side of the backboard and kick-flipping alley-oops in the game before these tricks were actually performed in the real competition. Now that's influence. Add in some sweet freestyle controls and the fact that the "Live" series was the first to utilize the right stick for skill moves, and it makes you long for the days before "Live" was dead in so many gamers' minds.
"'NBA Live 05' was the end result of a 3-year plan for rebuilding 'Live's' core gameplay," says Toddy Batty, the game's lead gameplay designer. "First introduced in 'Live 03,' freestyle control gave players the ability to control cross-overs, spin moves, post moves, and eventually even mid-air dunks, lay-ups and switches using the right-analog stick. As with most gameplay features, when it was first introduced in '03' it was in a pretty raw state. 'Live 04' started to smooth things out, but the '05' version finally nailed the perfect balance between control and responsiveness without being exploitable by the best players."
And when gamers decided to take a break from the incredible five-on-five action, hours upon hours were lost trying to perfect kick-flip alley-oops in "Live's" highly addictive dunk competition.
"All-Star Weekend was something that our fans had been asking us to include for years, and we were incredibly excited to bring it to them in '05' with an entire mode centered around the rookie-sophomore game, the all-star game, the three-point shootout and the dunk competition," adds Batty. "Players could participate in All-Star Weekend each year as part of their Dynasty Mode, or they could jump right in from the main menu. The highlight of this feature was easily the slam-dunk competition, which gave players unprecedented creative control over everything from where they started on the court to the way they tossed the ball, where they threw it and how they finished their dunks. Players could face backwards, bounce the ball between their legs, off the shot-clock, then turn around and jump in the air to catch the ball and do a 360 finish. It was crazy fun experimenting with the thousands of possible combinations and have your dunks scored by NBA Legends. Kenny Smith added some of the funniest color commentary ever heard to this mode that our fans really enjoyed."
Dev Talk: Says Batty: "After releasing 'NBA Live 05,' the team eagerly waited for the actual NBA All-Star game that year to see if any of the crazy slam-dunk ideas we had come up with would show up in the real dunk competition. Sure enough, that year we saw a number of NBA athletes attempting moves that had never been done in real life that we had introduced in 'Live 05,' including Steve Nash attempting a flip-kick alley-oop and eventually pulling off a soccer-style header to teammate Amare Stoudemire for a 360 slam. The following year Iverson and Iguodala teamed up for an alley-oop off the side of the backboard that you could do in 'Live 05.' That was pretty cool for all of us who worked on the dunk competition feature."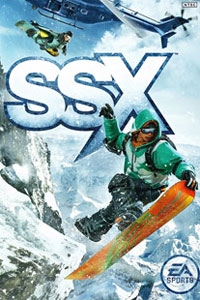 19. SSX
Systems: Xbox 360, PlayStation 3
Year Released: 2012
Superstar Status: Boasting mountains built from NASA topographical data, the reinvention of "SSX" featured ten times the content of previous games in the series while offering over 150 death-defying drops for virtual snowboarders to explore. You're literally speeding downhill for your virtual life in this one, as an avalanche could swallow you hole, or you could miss a jump and fall hundreds of feet to your doom.
"'SSX' was an incredibly ambitious project," says the game's producer and creative director, Todd Batty. "Following in the footsteps of the highly acclaimed past iterations of the franchise such as 'SSX Tricky' and 'SSX3' meant that our team had some very big expectations to live up to.
"The core physics-based riding and air model gave players the unprecedented feel of hurling themselves down the mountain like a snowboarding superhero. Add in the ability to fly with a wingsuit, to import your own custom playlists into the game and have your music remixed on the fly based on how you were riding and a retro 'SSX Tricky'-inspired Mount Eddie tribute to the fans, and even the most die-hard 'SSX' fan will find something they love in this massive game."
Dev Talk: Adds Batty: When presenting 'SSX' at E3 in 2011 (the game industry's biggest expo) we got a call after day one that a senior member of the U.S. Congress wanted a private showing of 'SSX' in the morning of Day 2 prior to the show floor opening. When we presented the game to him and demonstrated how we had used NASA satellite data to reconstruct the crater summit of Mt. Kilimanjaro in Africa, the congressman was completely surprised and blown away. He ended up passing our story along and we eventually ended up on a conference call with the White House! Apparently, President Obama was a big part of making government research -- such as the NASA data we used to help build 'SSX' -- available for public use. Being on a call with the White House was definitely something we never imagined ourselves doing as a result of working on video games."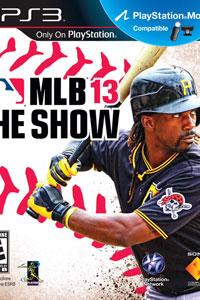 18. MLB 13: The Show
Systems: PlayStation 3, Vita
Year Released: 2013
Superstar Status: While Sony's "The Show" has always been known as one of the best offline baseball experiences ever created, "13" is the first game where online finally lives up to the rest of the amazing franchise. But when you're talking "MLB 13," you're talking the complete package, starting with the fact that the animations in this game are downright ridiculous. I've seen everything from a pitcher snare a line drive up the middle by flailing his mitt behind his back, to a computer-controlled third baseman picking up a bunt bare handed, faking the throw to first, and then nailing the runner rounding the base at second. Amazing. Another big difference that really opened the game up is "The Show's" improved hitting.
"We opened the timing window up a little bit because people had been complaining that there just wasn't enough offense in our game," said the game's producer, Ramone Russell. "Last season, in real life, you saw all those games where there were 15, 16 hits and the score was like 14-9. We never had that in "The Show" last year. In our video game, every time you played, it was a pitcher's duel. So what we did was, we opened up the timing window, then we added this new push/pull attribute system. MLB.com gives us the spray charts for every single player in the league, looking at every character we have, and then characterizing them as either push, pull, extreme push, extreme pull, or balanced.
For example, Prince Fielder is an extreme pull hitter, so he is categorized like that, and now he will hit the ball more to his field. In turn, you'll see more defensive shifts come into play based off of these spray charts and how each hitter is labeled. I think that's what people are going to be talking about when they first play 'MLB 13,' because the hitting is way more dynamic than it was before."
Pro Talk: Says Pittsburgh Pirates outfielder Andrew McCutchen: "The game is super realistic. I was just playing the Home Run Derby, and I think it's the coolest thing. I'm playing as myself, and I just finished my part of the competition, and then Pablo Sandoval, Joey Votto and Dan Uggla come up to my character in the game and they're hitting me on the back and putting their hands on my shoulders and complimenting me. Little things like that just add so much realism. To me, it's the little things. It's the detail in these animations that mean all the difference to me."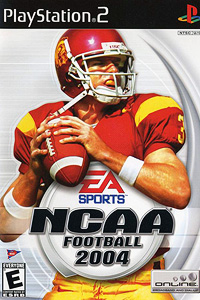 17. NCAA Football 2004
Systems: PlayStation 2
Year Released: 2003
Superstar Status: The first game in franchise history you could play online, NCAA 2004 is also known as the game where EA Sports went crazy adding teams, boosting the total by over 150 schools.
"I think of 'NCAA Football 2004' as one of the best because it appealed to so many different types of players," says the game's creative director, Jeff Luhr. "It was the first time you could play someone online (PS2 only), it had new Sports Illustrated magazine covers surfacing the top stories in dynasty, and we added over 150 new teams. But when it comes right down to it, I think it was the college gameplay with the option and the trick plays that made it so much fun to play."
Dev Talk: Adds Luhr: "We added a lot of new features in NCAA Football 2004. But what some people may not know is that one of our biggest features in 'NCAA Football 2004' was actually removed from the game just a few days before we submitted final software for approval. Attempting to capture the mayhem that ensues following an epic home win in college football, we thought it would be a good idea to deliver an equally epic sequence of fans storming the field and ripping down the goal posts. It was in the game, it was polished, and it was ready to ship. But just before the final submission, concern over fan safety led to its removal. That was one of the more difficult messages I've had to deliver, explaining that the feature we worked so hard on all year was being removed."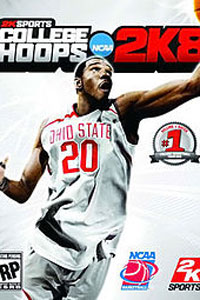 16. College Hoops 2K8
Systems: PlayStation 2, Xbox
Year Released: 2007
Superstar Status: The only college basketball title that doesn't feel like an NBA game dumbed-down to feature Duke instead of Detroit. The 2K Share feature even let you modify and trade rosters online to get around NCAA regulations about featuring real players.
"While College Hoops 2K8 does feed off our NBA 2K engine, it still feels like a unique game," says Greg Thomas, president of product development for 2K Sports. "It just feels more like college basketball, from the suffocating zone defenses to team's willingness to shoot three pointers. The two sports are very different from each other, and 2K8 felt very different from our NBA game in all the right ways. It really upped the ante for what a college sim should be, let alone a basketball sim.
"'CH 2K8' was really the first time in which we shipped a basketball game that didn't just feel like our NBA game. It had its own feel, its own vibe and it fit what our players were looking for at the time very well. There was so much college specific stuff in there, not just in the teams/arenas, but in the features of the game. That Legacy Mode was really something special."
Dev Talk: Adds Thomas: "Our fanbase for this game is truly incredible. Rosters are still being updated for 'College Hoops 2K8,' which continues to give this title new life. I think this is because 'CH 2K8' was the first time that college game really came into its own. And the team here at VC gets all the credit. They could have simply taken the easy road with this title but instead they showed a ton of passion and created new features, enhanced gameplay and went into meticulous detail with game."
Top 25 Sports Video Games Ever:
Introduction: The changing sports video game landscape
Nos. 21-25: Bulls, Blazers and Fat Guys
Nos. 16-20: MLB, Mountains and Madness
Nos. 11-15: Blitz, Boards and His Airness
Nos. 6-10: Stars, Showdowns and Street Ball