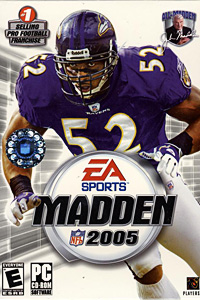 10. "Madden NFL 2005"
Systems: PlayStation 2, Xbox, Gamecube
Year Released: 2004
Superstar Status: While some gamers prefer the complete offensive madness of "Madden NFL 2004" and the 73-69 scores, thanks to the game's Playmaker controls, I look at "Madden NFL 2005" as the year the game evened back out, and playing defense became fun again, thanks to the Hit Stick.
"Fans still tell me that '2005' had the best gameplay of any football game they've ever played," producer Josh Looman says. "The game was one of the best ever, in my opinion, because it followed up the success of 'Madden NFL 2004' with several significant advances in Franchise mode, including Storyline Central and the Tony Bruno show. The real highlight of 2005 was gameplay, though. The sheer amount of content and features we added to that game is mind-blowing."
Dev Talk: Looman adds, "The Storyline Central feature alone was the major inspiration behind our news engine in Connected Careers in 'Madden NFL 13.'"
Pro Talk: Retired Baltimore Ravens linebacker Ray Lewis says, "With me being on the cover, they wanted to improve the game's defense, and that's something the game was really lacking until 'Madden 2005.' The defensive adjustments and the Hit Stick add new strategy to every play, and I'm not just saying this because I was on the cover. I'm a real gamer, and I take being on the cover seriously, and that's why I'm so proud of being on the cover of the 'Madden' that people still consider the best after all these years. The fact that the Hit Stick was introduced in this game and is still one of 'Madden's' most popular features, that says it all."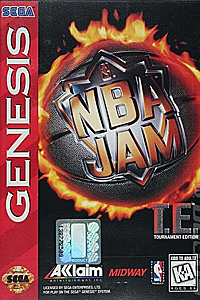 9. "NBA Jam"
Systems: Arcade, Sega Genesis, Super Nintendo
Year Released: 1993
Superstar Status: Boom-shackalacka! Is it the shoes? He's on fire! If you're a gamer who grew up stacking tokens on the top of "NBA Jam" machines at your local arcade, these are phrases that probably still periodically pop into your head during day-to-day life... at least, they do for me. And that's because "NBA Jam's" gameplay was just pure fun, with two-on-two helicopter-slamming, big-headed action, the likes of which we'd never seen before.
"The big thing for us was the fact that it was the very first NBA-licensed, coin-operated game," Mark Turmell, the game's creator, said. "That was quite a hurdle, because the NBA was really concerned about putting their logo in arcades. Back then, a lot of the arcades they were used to in New York were kind of seedy, with drug dealers hanging around, and the NBA didn't want to be associated with that. We really had to educate the league about all the family fun centers and bowling alleys, and why the NBA logo should be on the side of these cabinets. We tried to make them forget about the seedy side, and they finally agreed. Then, right off the bat, we knew we had a huge game. 'Jam' was making so much money when it first came out. There was so much four-player action at this one arcade in Chicago that the first week they had to shut the arcade down because there was a huge fight over whose turn it was to play. There was so much money coming in, they had to change the coin-box every day. It was crazy. It's funny, though -- the big thing I still remember about that time was when I put the first dunk in the game. I didn't even intend to do anything over the top. I put in the velocity and the height, and it looked cool. Then I kept going higher until it was clearly unrealistic but still entertaining. Once that happened, we completely shifted the focus of the game."
Dev Talk: Turmell says, "The most interesting one was the teams of Gary Payton and Michael Jordan. Payton didn't make the cut to be in the game, and, of course, Jordan pulled himself out of the licensing of the NBA, so we had to pull him out of the game. But one day, I got a phone call from a distributor out on the West Coast who told me that Gary Payton was willing to pay whatever it cost to get into the game. So we told him what to do in terms of taking photographs. So he sent in photographs of himself and Jordan, saying, 'We want to be in the game. Hook us up.' So we actually did a special version of the game and gave both players all-star, superstar stats. There are only a handful of these machines, but Jordan and Payton did end up being in one version of the game."
Pro Talk: Los Angeles Dodgers outfielder Matt Kemp adds, "My favorite game that I used to love was 'NBA Jam.' That was the Sega Genesis game I couldn't get enough of. With all the players jumping so high and doing flips and dunking; that was my game. 'NBA Jam' was so dope. 'He's on fire!'"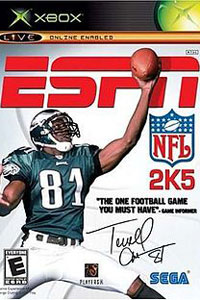 8. "ESPN NFL 2K5"
Systems: PlayStation 2, Xbox
Year Released: 2004
Superstar Status: The perfect combination of sizzle and substance, "NFL 2K5's" Chris Berman highlight show is still better than anything "Madden" does today, and this game came out nine years ago. Unfortunately, EA's exclusive deal with the NFL killed off this once-great franchise, turning an already brilliant game to legendary status as gamers can only dream what could've been if 2K and EA were still pushing each other year after year to innovate and create the virtual NFL at the same pace they were driving for back in 2004.
"We had been working on NFL games for some time at that point. I believed that we had always offered something different and more real than what 'Madden' offered at the time, and with 'NFL 2K5' it really all came together," Greg Thomas, president of product development at 2K Sports, says. "Everything from our blocking schemes, the tackling engine and the overall football engine was something that every single person at VC [Visual Concepts, 2K Sports' game developing house] was incredibly proud of in 'NFL 2K5.'
"I don't look back at 'NFL 2K5' as a year of innovations per se. Rather, this was a year we spent on getting things right. We made things make sense, and we polished the heck out of everything that we could. When you're developing annual sports titles, it's always difficult to find the time to do this, but in 'NFL 2K5,' we spent more focus on this than most anything else, and I think it paid off. Of course, we also re-wrote lots of systems, added many new features as we always did, and continue to do today."
Dev Talk: Thomas adds, "While it wasn't perfect, it was probably the closest we've come. The other thing that really sticks with me about 'NFL 2K5' is that it felt like we were really trying to accomplish something impossible. Going up against the massive juggernaut of 'Madden' was very scary, but as we played the game in development we would look at each other and we just knew that we had something very special."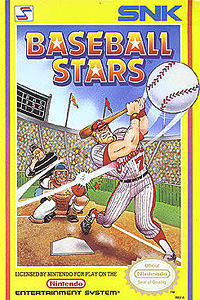 7. "Baseball Stars"
Systems: NES
Year Released: 1989
Superstar Status: I remember spending hours upon hours on this game making every team imaginable. "Baseball Stars" was the first sports game with a battery backup, enabling you to create and save to memory a team of Hall of Famers, a team named after everyone in your school, or even a team of your favorite rappers (they were my best team, thanks to the power hitting Ice-T -- I'm serious, I did this). The more you played, the more money you earned, which gave you the ability to upgrade your players. At one point, Deion Sanders and Dr. Dre were the two best players on my cart, just to give you an example of some of the craziness that can happen when a kid gets too much time on his hands and loves making crazy lineups.
There was even a team of all-time greats in "Baseball Stars" led by "Babe," "Hank" and "Cy" (no license, no problem back then), not to mention the ability to keep accurate stats for every player, including batting average and home run totals. Back in 1989, this was mind-blowing stuff.
"'Baseball Stars' became a major hit in many countries worldwide and is often referred to as the best baseball game on the NES platform," SNK's Shinya Morashita said. "It was one of the first sports games to have data memory. Therefore, players could create a team, configure baseball leagues and play a season, and the game's memory chip stored cumulative statistics. 'Baseball Stars' was also the first sports game for the NES to have a create-a-player feature, giving gamers the power to name their players, as well as their teams. The game also introduced a role-playing element; as each game played earns the winning team money, and the amount won is directly related to the sum of the prestige ratings of the players from both teams (as prestige determines how many paying fans attend the game). The money can be used to purchase upgrades to the various abilities of players currently on the roster, or it can be used to purchase pre-designed players (available in the Rookie, Veteran, and All-Star categories). Also a first, a hidden feature allows players to purchase female baseball players."
Pro Talk: Milwaukee Brewers outfielder Ryan Braun says: "'Baseball Stars"' was one that was so much fun, and it's probably the first game I remember playing regularly. It was just something that I really enjoyed, and it increased the passion I had for playing the game of baseball."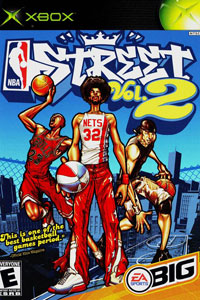 6. "NBA Street Vol. 2"
Systems: PlayStation 2, Xbox, Gamecube
Year Released: 2003
Superstar Status: A wild three-on-three streetball game featuring Michael Jordan bouncing alley-oops off a defender's head to a gravity-defying Dr. J. This is the first game to feature three iterations of His Airness: the Wizards version, rookie Jordan and M.J. in his prime. Talk about an unbeatable team.
To designer Will Mozell, "NBA Street Vol. 2" was all about two things: gameplay and cultural relevance. "The game set a standard for the most exciting gameplay highlight reel, giving basketball fans nonstop action to stand up and trash talk like never before, while giving gamers a reason to love basketball, in many cases for the first time," Mozell said. "We went deep on making the game the most culturally relevant experience available. Authentic street courts, the most amazing streetball talent on the planet, the most expressive soundtrack ever and creative direction from the mad box minds of Jimmy Smith and Bobbito Garcia. Every single creative mind that touched the game shared a common love for basketball and wanted to do things that had never been done before. 'Vol. 2' was born from pure passion and dedication."
Dev Talk: Mozell adds, "'NBA Street Vol. 2' was packed with b-ball goodness: Old School vs. New School, Off the Heezay, the All-Jordan Team, Pete Rock & C.L. Smooth, Stretch Monroe, Be The Oop and, of course, Dr. J. 'Vol. 2' created a fresh new sports game genre soon followed by 'NFL [Street]' and 'FIFA Street.'
Top 25 Sports Video Games Ever:
Introduction: The changing sports video game landscape
Nos. 21-25: Bulls, Blazers and Fat Guys
Nos. 16-20: MLB, Mountains and Madness
Nos. 11-15: Blitz, Boards and His Airness
Nos. 6-10: Stars, Showdowns and Street Ball