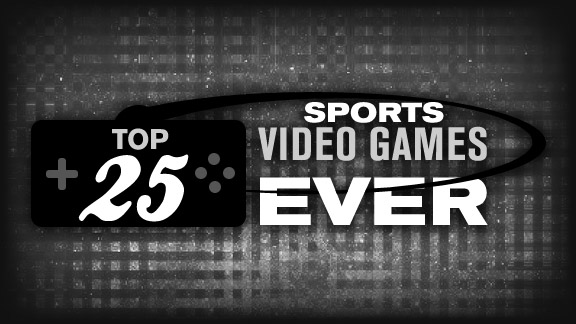 When attempting to narrow down dozens of classic titles into the Top 25 Sports Video Games ever created, the first thing I noticed is how many of the truly terrific games were published around the same time period.
If anyone is wondering when the golden age of sports video games was, all you have to do is look at the years from 2003 to 2005. In a matter of three years, not only did some of the most innovative games of our time come out -- classics like "MVP Baseball 2005," "NFL 2K5," "Madden NFL 2005" and "NCAA Football 2004" -- but gamers actually had variety and choice, before exclusive league licenses became the norm.
Didn't like the "Madden" Hit Stick? No problem, because you could trade it in and try 2K's brand of football instead. Didn't like the way "2K" does baseball? No sweat, Electronic Arts' "MVP" had you covered.
And variety didn't stop with the simulation games, as you had "NBA Street" to compete with "NBA Jam" and "NBA Ballers." The designers of "NFL Blitz" and "NFL Street" tried to one-up each other to the point that we had Daunte Culpepper running up walls and throwing passes behind his back … and we loved every minute of it.
If I were living in a perfect (virtual) world, 2K would still be making football, EA would still be making baseball, and Midway would still be around.
But I digress...
The second (and even more frustrating) thing that comes to mind is how angry I am that I let my mom convince me to give my Nintendo Entertainment System and over 200 games to my cousin once I bought a Sega Genesis. I spent hours upon hours playing everything from "Tecmo Bowl" and "RBI Baseball" to "Baseball Stars" and "Mike Tyson's Punch-Out!!" -- and to know that within a year my cousin flipped my collection for some quick cash, well, it still makes me sick.
Then again, this list has inspired me to hit up collectors and used-game stores in hopes of once again owning every game in this feature. So as my journey of digging through crates of cartridges begins, I hope you have as much fun reading about the greatest sports games ever made as I had playing them.
Top 25 Sports Video Games Ever:
Introduction: The changing sports video game landscape
Nos. 21-25: Bulls, Blazers and Fat Guys
Nos. 16-20: MLB, Mountains and Madness
Nos. 11-15: Blitz, Boards and His Airness
Nos. 6-10: Stars, Showdowns and Street Ball
Nos. 1-5: Punches, slapshots and Tecmo Bo