Protecting jocks from themselves
May, 10, 2011
05/10/11
12:05
PM ET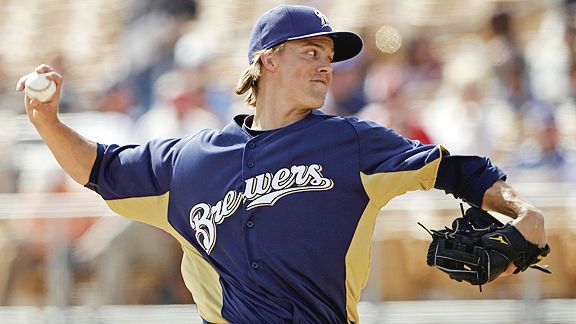 AP Photo/Morry GashZack Greinke's contract, and those of other athletes, often contain clauses designed to keep them healthy.
How do you stop a big league adrenaline junkie from taking risks in his spare time? Cram prohibitive language into his contract. The deals we've seen tackle everything from ping-pong to mountain climbing -- with some dog mushing in between.
What a drag
Dan Pastorini had a solid NFL career (1971-83), but the QB made his biggest impact with the contract he signed with the Oilers in the mid-'70s. Pastorini's passion for Top Fuel dragsters -- he spent three years on the NHRA circuit after retiring from football -- led Houston to include a racing ban in his deal, which inspired other leagues to draft more restrictive basic agreements. The NBA's standard contract, one of the most stringent in pro sports, bans everything from wrestling to mountain climbing (but hiking is okay). And, yes, drag racing is out.
Sledding violation
Not all athletes heed the fine print, so contracts also feature clauses allowing teams to void the deal if a player gets injured doing something he's not allowed to do. And teams don't mind stretching the definition of "other sports" to recoup salary. While Detroit defenseman Uwe Krupp was rehabbing from herniated disks in 1999, he went dogsledding and, club execs alleged, aggravated the injury. So the Red Wings suspended him without pay and hired private investigators to prove he had hurt himself mushing. Krupp, who missed almost two seasons and was out $8.2 million in lost salary, took Detroit to arbitration. The two sides eventually settled.
No spelunking
MLB has a standard contract, but teams add lots of clauses. The four-year, $15 million deal Will Clark signed with the Giants in 1990 listed 54 things that were off-limits, including chopping wood and spelunking. Many of the activities -- boccie, bowling, table tennis, fishing, logrolling, shuffleboard -- remain in MLB contracts to this day. Brewers GM Doug Melvin bit his lip this winter when he heard that new ace Zack Greinke had cracked a rib playing pickup basketball and would miss Opening Day. But because Greinke wasn't technically in violation (the standard contract forbids "any game or exhibition of professional league basketball"), Melvin decided to tread lightly. "You just ask guys to be careful with what they do," he says.
Get quoted
Athletes who want to play it safe when they do dangerous deeds can always go the insurance route. Matthew Ferraro, a managing general agent in Elkin, N.C., who writes policies for Lloyd's of London, gives this seven-page questionnaire to athletes looking to protect their income. Among the NFL players who've filled it out recently are an offensive lineman who likes to go off-road in his dune buggy and a globe-trotting linebacker with a taste for new pursuits. "Compared to their day jobs," Ferraro says, "what they're doing isn't that crazy."