Commentary
Behind the Bets
Despite some bad pub and a pushy government, online poker is ready for a bounce
Updated:
June 18, 2009, 2:21 PM ET
By
Chad Millman
| ESPN The Magazine
A few headlines you may have missed in the past week if you don't get incessant gambling phrase Google alerts (but hey, that's what you've got me for, right?):
The Utah Transit Authority, which manages public transportation in the Beehive state, offers free Wi-Fi to its riders. However, the UTA announced that any passengers using its service to access gambling sites, legal or otherwise, will be fined $300 for the first offense and $500 for the second. Just so it's clear that the moralists running the UTA don't discriminate against gamblers, anyone using porn sites while riding the bus or train will get pinched in the pocketbook, too.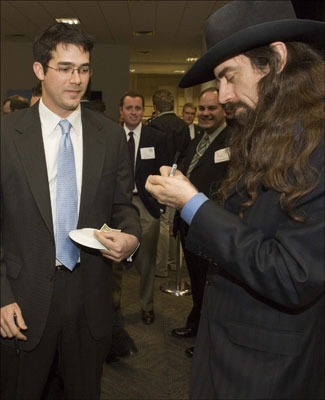 Getty ImagesPoker players such as Chris "Jesus" Ferguson have been lobbying Congress for years, trying to reopen the ease of access to a still legal online game.
The European Union released the findings from its three-month investigation into whether U.S. Internet gambling laws violate World Trade Organization rules. What kind of conclusion did the EU come to? Well, the United States' strict laws negatively impact European gambling sites trying to do business here. In other words, yeah, the EU thinks the U.S. is sticking its thumb in the eye of the WTO.
U.S. Rep. Barney Frank's bill to regulate and tax Internet gaming in the United States -- the Internet Gambling Regulation, Consumer Protection and Enforcement Act -- picked up four more co-sponsors, bringing the total number of congressmen supporting the proposed law to 30. It's expected that Congress' Finance Committee, which Frank chairs, will begin debating the bill in mid-July.
Assistant U.S. Attorney for the Southern District of New York Arlo Devlin-Brown seized more than $30 million won by online poker players in the United States as the money sat in four different banks and payment processing centers, waiting to be paid out. Most of the cash was won by people using Poker Stars and Full Tilt Poker (take a look around ESPN.com and you'll find some Full Tilt Poker ads, by the way).
Oh yeah, a little thing called the World Series of Poker is taking place right now at the Rio in Vegas. (Congrats to Phil Ivey, who just won his seventh WSOP bracelet).
All of these stories are intertwined.
To read the rest of this Behind the Bets, you must be an ESPN Insider.

To continue reading this article you must be an Insider
Insider
Editor in Chief of ESPN The Magazine
Writes "Behind The Bets" blog on sports gambling
Authored seven books, including "The Odds"
EDITORS' PICKS
Todd McShay's Top 32

Kiper's 2017 Big Board

Todd McShay's Top 32