The 2010 Fan Army
We sent enterprising young'ins out into the reporting world. Here's what happened.
Updated:
January 28, 2010, 6:36 PM ET
ESPN The Magazine helpers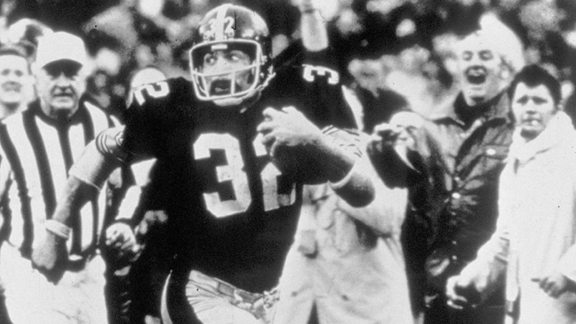 Getty Images"Are you for a second insinuating that Franco Harris did not change everything?"
This story appears in the February 8, 2010 -- "The Fan Issue" -- issue of ESPN The Magazine.
If you're unclear what this is, that's OK. We're here to help. This is called "Fan Army." To see the 2009 version of this concept, please click here. If you'd be interested in participating in a 2011 version of this concept, check the Insider homepage in the summer of 2010.
My life began on Dec. 23, 1972. This wasn't the date of my birth. It was the date of my first memory. We were living in the San Francisco Bay Area and my parents were Raiders fans. The image of a bearded man in black and gold scooping up a deflected ball and running down the sideline for the most improbable game-winning touchdown ever was etched in my mind permanently. Yes, my first-ever memory was the Immaculate Reception.
I remember stumbling around the house in pajamas with feet, so excited I couldn't stay upright for more than a few seconds. Not so much because I understood what had happened -- I'm not even sure I had teeth yet. But I had never seen my parents react so emphatically toward anything. No bit of strategic wailing through the night had ever caught my parents' attention like this. The biggest play of a 1972 divisional playoff game between Pittsburgh and Oakland was the moment I became a lifelong Steelers fan in a land of Raiders faithful -- many of whom also didn't have any teeth.
Now, more than three decades later, I got to live my dream. I got to do it because the editors at ESPN The Magazine assigned me a media credential for the Raiders-Steelers game at Heinz Field. I had never even been to Pittsburgh. The Steelers were such heavy favorites I was sure they wouldn't need a miracle to win this time. No, this was to be my day. Everything was perfect. Until --
Want to keep reading this? Maybe you know one of the people who is going to be featured here? Well, you *can* keep reading it -- but you gotta be an ESPN Insider. So sign up. C'mon. Mel Kiper, Bruce Feldman, ESPN The Magazine, Buster Olney, John Hollinger, Todd McShay... whatcha waiting for?
Insider
ESPN The Magazine: The Fan Issue

Check out all the content from ESPN The Magazine's "Fan Issue." Where noted, the content is for ESPN Insiders.
The Fan Issue