Commentary
Internal affairs
NCAA compliance officer may be the toughest job in college sports
Updated:
August 17, 2010, 5:59 PM ET
By
Seth Wickersham
| ESPN The Magazine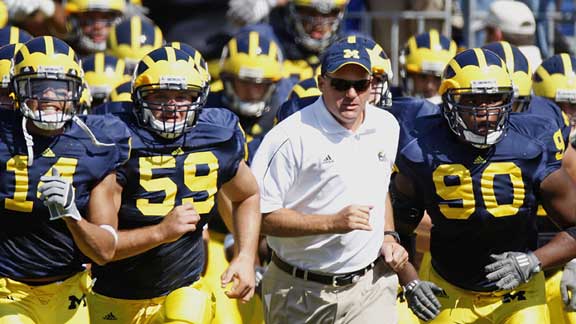 Gregory Shamus/Getty ImagesRodriguez and his staff ignored more than 25 requests for critical NCAA paperwork.
The irony is lost.
Nobody acknowledges it as the woman bounds onto the stage, an ovation at her back, to receive her industry's highest honor. It's a late-June morning, in a half-full Anaheim hotel ballroom. This is the presentation of the Frank Kara Leadership Award at the National Association for Athletics Compliance convention, bestowed annually on the member who best demonstrates "leadership" and "vision." The winner is Michigan's Judy Van Horn.
Behind the podium, Van Horn -- early 50s, with fashionable purple glasses, a broad smile and shiny hair the color of wheat -- raises the diamond-shape trophy. But only for a moment, as if an award she's waited her entire 21-year career to receive suddenly felt empty. A month earlier Michigan released an internal investigation of its football program. It revealed four major violations, including illegally long practices and impermissible staffer-player contact. The university doled out seven letters of reprimand, including ones to head coach Rich Rodriguez and Van Horn, the Wolverines' compliance officer, for failing to "adequately monitor" the football program. For Van Horn, that meant failing to do her job.
Now, on this day, she's being recognized for doing it better than anyone else. As she leans into the mic, her voice cracks, as if she were about to talk about how tough the tarring of her previously unblemished reputation has been. But she doesn't. Instead she says, "At the end of the day, when I look at this award, I think, This isn't about me. It's about our profession. I love this profession. I love the people in it. I know it's challenging, and there are times we wonder why we do it, because it's thankless." Then she pauses.
Those in the audience nod their heads.
To read more about the difficult job facing an NCAA compliance director, you must be an ESPN Insider.
Insider
ESPN Senior Writer
Senior Writer for ESPN.com and ESPN The Magazine
Joined ESPN The Magazine after graduating from the University of Missouri.
Although he primarily covers the NFL, his assignments also have taken him to the Athens Olympics, the World Series, the NCAA tournament and the NHL and NBA playoffs.
ESPN The Magazine: August 09, 2010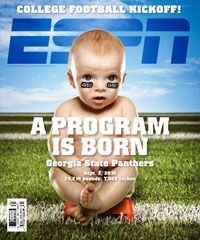 Check out the content from ESPN The Magazine's August 23, 2010 issue below.
Features
Videos