Commentary
The 6 best rules of all time
Tweaks that transformed the way athletes play the game
Updated:
December 16, 2010, 6:00 AM ET
By
Charles Curtis
and
Eddie Matz
| ESPN The Magazine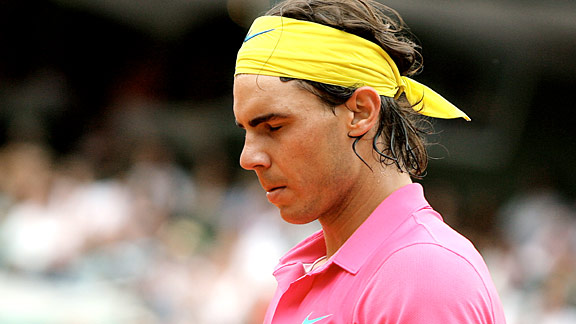 Matthias Hauer/US PresswireAt the 2009 French Open, four-time defending champ Rafael Nadal lost in a four-setter punctuated by one of the best rules in sports: the tiebreaker.
1. TIEBREAKER
Impetus for change At the 1954 Newport Invitational, Ham Richardson beat Straight Clark 6-3, 9-7, 12-14, 6-8, 10-8. The match lasted more than four hours, and Tourney director Jimmy Van Alen was not pleased. "It ruined the cocktail hour," says Bud Collins. Over the next decade, Van Alen devised VASSS (the Van Alen Streamlined Scoring System), which replaced multiple four-point games with 30-point supersets and added sudden death. In 1970, the U.S. Open became the first Grand Slam to adopt the tiebreaker.
Unintended consequence Epic upsets. "With the tiebreaker," says Collins, "there's definitely a greater chance for the underdog." At the 2009 French Open, Robin Soderling, the 23rd seed, handed four-time defending champ Rafael Nadal his first-ever loss at Roland Garros. It was a four-setter punctuated by a tiebreaker.
Why it's great Remember that 183-game marathon last June at Wimbledon? A tiebreaker would have saved us from wasting three days watching sloppy tennis.
These days With all those big-serving stars, the tiebreaker is more important than ever. This year, 12 ATP Tour matches didn't feature a single service break, meaning every set ended with a tiebreaker.
That's one of the six best rules of all-time. And for access to the other five, become an ESPN Insider today!
Insider
ESPN Senior Writer
Eddie Matz covers the Washington Nationals and the world of Major League Baseball for ESPN.com. He's been writing for ESPN since 2002, and is a graduate of the University of Pennsylvania.
ESPN The Magazine: December 27, 2010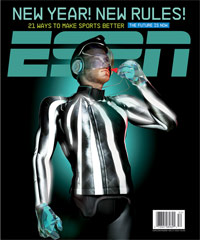 Check out ESPN The Magazine's December 27, 2010 issue -- New Year! New Rules! -- below.
Features