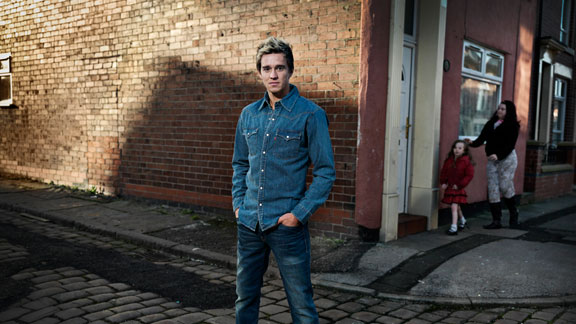 Perou for ESPN The Magazine
Born in Scotland, raised in Texas, Holden feels at home on the streets of Manchester.
THE FIRST THING EVERYONE notices about Stuart Holden is, of course, his hair. His mom can spot him across the ocean, when he's playing on TV for the English Premier League's Bolton Wanderers, as that "little blond blob running around in the middle of the field." Opposing fans taunt him on corner kicks, telling him his head looks like birds shat on it. Somebody started a Twitter feed called StuHoldensHair, which features musings like: The rain flattened me out today, I could barely hold it up. Embarrassing. You win this round, rain. You win this round. More than 1,300 people follow StuHoldensHair, including said hair's owner. "How could I not?" says StuHoldensMouth.
But it's not just his hair that turns heads. The 25-year-old Holden, with his endless stamina, solid skills and feisty physicality, has become a fan favorite and media darling after little more than a year at Bolton. Readers of the U.K's Guardian newspaper rated him the EPL's top player for the first half of the season. Imagine that. The British, inventors of the game, fancy an American field player, not as a novelty or mascot, but because of how he plays.
The Brits got a big taste of American spirit last summer, when the U.S. and England shared the same World Cup group, and the Yanks won it. That American squad ran hard all game, every game, coming from behind to tie both England and Slovenia, and beating Algeria on Landon Donovan's dramatic goal in the waning seconds.