Commentary
Should wins be considered a stat?
When it comes to the importance of wins, we can all agree to disagree.
Updated:
April 11, 2011, 11:49 AM ET
By
Steve Wulf
| ESPN The Magazine
This story appears in the April 18, 2011 issue of ESPN The Magazine.
I HAVE BEEN WANTING to take the mound for some time now. I am willing to make a pitch on behalf of something I hold dear, but that others dismiss, deride and detest. I toe the slab for the losing cause of wins.
My opponents are the sabermetricians, that new breed of baseball execs and readers of The Magazine, who in our NEXT issue (Jan. 10) voted wins for pitchers as the most overrated stat in sports. Even my own sons roll their eyes when I come to the defense of the W, like they do when I sing the praises of Deep Purple. All of them seem smug and flush with success now that Mariners pitcher Felix Hernandez (he of the 2.27 ERA, 1.057 WHIP and 13-12 record) is the American League's defending Cy Young Award winner.
To read more of Steve Wulf's take on wins -- and why sabermetricians aren't seeing the full picture -- become an ESPN Insider today!
Insider
ESPN Senior Writer
Senior writer for ESPN.com and ESPN The Magazine
Around long enough to have written about athletes from Hank Aaron to Ben Zobrist and Super Bowls from VII to XLVI.
Joined ESPN The Magazine as a founding editor in 1998.
Also wrote for Time, Sports Illustrated, the Fort Lauderdale News and The Evening Sun in Norwich, NY.
ESPN The Magazine: April 18, 2011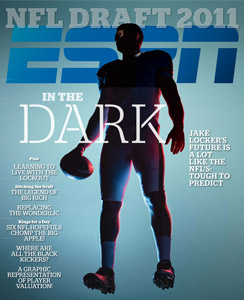 Check out what's in ESPN The Magazine's NFL Draft 2011 issue!
Features
Columns & Go/Play