Commentary
All in (and very little back out)
One of the biggest mistakes poker players make is betting on other poker players
Updated:
June 6, 2011, 5:30 PM ET
By
Tim Struby
| ESPN The Magazine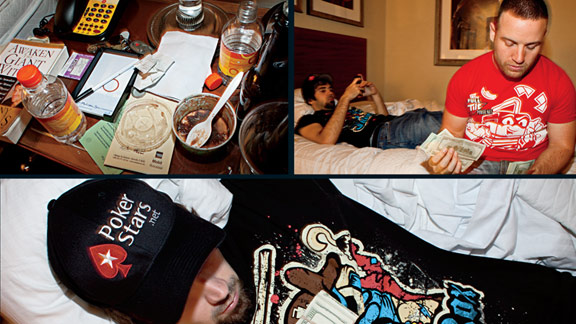 Jeff MermelsteinJason Mercer (black shirt) has backed Dan O'Brien (red) for several years. He's still waiting for a return on his investment.
Editor's note: This story appeared in the May 2, 2011 issue of ESPN The Magazine. Since then, at the 2011 World Series of Poker, Allen Bari became one of the biggest winners with his victory in Event 4, $5,000 no-limit hold 'em. After his win, Bari said, "I was expecting to win a bracelet … I do not think my swagger is undeserved. I've been playing poker a long time and have been working hard at it."
FIVE MINUTES BEFORE the start of the PokerStars Caribbean Adventure main event, poker pros Allen Bari and Dan O'Brien meet with fellow pro Jason Mercier. The three friends say their hellos, then Mercier, as nonchalant as if he were buying a round of beers, gives Bari and O'Brien each $10,000, the buy-in for the tourney. Ordinarily, when Mercier gives them a large scale buy-in, something he's done dozens of times, it's in stacked 100-dollar bills or two $5,000 chips. Today, though, he hands each a white, palm-size ticket with a face value of 10 G's. During the exchange, the 24-year-old Mercier, ESPN's No. 3-ranked player, who has made nearly $5.2 million in 32 months as a pro, offers no words of encouragement. He also doesn't ask when he'll be repaid. Despite the combined $300,000 that O'Brien and Bari owe Mercier, none of them seems concerned about settling up.
These types of big-money exchanges are regular occurrences before poker tournaments. In this world's vernacular, Mercier "backs" or "stakes" Bari and O'Brien. For the past few years, the three have had an arrangement. Mercier pays all their tourney buy-ins (both online and live). In return, O'Brien and Bari, two of Mercier's "horses," share with him all of their winnings.
To pro gamblers, the practice has become as common as a three-bet. According to a PokerStars survey of 56 of the online-poker company's sponsored pros, 52 said that at some point they had either backed a player or been backed themselves. "There's no way to tell the numbers for certain," says Eric Baldwin, the 2009 Card Player Player of the Year, who's also playing here at the Atlantis Paradise Island, Bahamas. "But at an event like this, I'd say around 40 percent of the players are staked."
And if 40 percent of poker pros, some of the best number crunchers on the planet, are betting on other poker pros, you'd think staking must be good business practice.
You'd be wrong.
To find out why poker players often back one another -- even though they probably shouldn't! -- become an ESPN Insider today.
Insider
ESPN The Magazine: May 2, 2011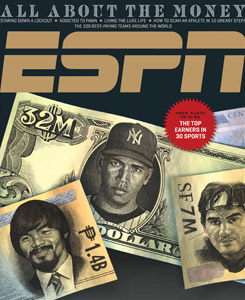 Check out what's in ESPN The Magazine's "All About the Money" issue!
Features
Columns & Go/Play