Commentary
Where there's a will
If you don't know who linebacker Ernie Sims is, Adrian Peterson certainly does.
Updated:
July 27, 2011, 11:39 AM ET
By
Eddie Matz
| ESPN The Magazine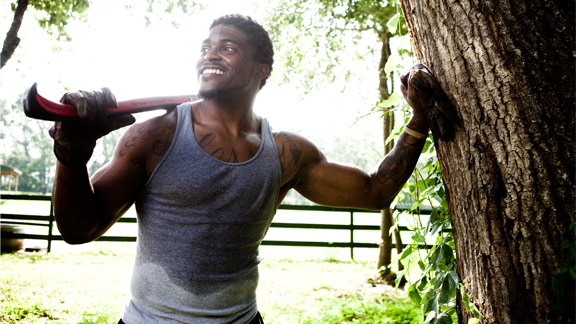 Peter YangActing Mag editor Adrian Peterson says Eagles linebacker Ernie Sims deserves a shout-out.
This story appears in the Aug. 8, 2011 issue of ESPN The Magazine.
YOU PROBABLY DON'T KNOW the man with the large jaw, but Adrian Peterson does. When we asked our guest editor in chief which opposing player he hates facing most, a guy who deserves more pub, Ernie Sims was the first name he gave. "He's like the Tasmanian Devil," says Peterson, who faced Sims twice a year when both were in the NFC North. "He's extremely athletic, he's in on every play and he's a huge hitter."
If that praise comes as a surprise, blame Detroit. In Sims' first three years, the 2006 first-rounder led the NFC with 370 tackles. He did it playing weakside linebacker (or "Will"), a position known for smaller 'backers who specialize in pass coverage. But the Lions also won just 10 games in that stretch. With that kind of futility comes anonymity, even after Sims was traded to Philadelphia last April.
Colleagues, though, have known Sims as a streaking game-film blur for the past five years. He earned his rep by being one of the league's best linebackers at avoiding congestion, spotting the ball and then tracking down runners. "He has to be one of the most acrobatic players in the league," says Lions running back Kevin Smith. "Sideline to sideline, he's a beast. You can size him up all you want, but if he wants contact, he'll find it. And he hits like a freight train." Adds Eagles center Jamaal Jackson, "Ernie's the fastest linebacker I've ever seen."
To read Eddie Matz's story about underrated linebacker Ernie Sims, become an ESPN Insider today!
Insider
ESPN Senior Writer
Eddie Matz covers the Washington Nationals and the world of Major League Baseball for ESPN.com. He's been writing for ESPN since 2002, and is a graduate of the University of Pennsylvania.
ESPN The Magazine: August 8, 2011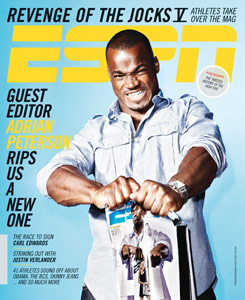 Features