Commentary
2012 Free Agent Profiles: Chris Paul
ESPN Insiders project where 2012 free agents might land
Originally Published:
August 1, 2011
By
Chris Broussard, Ric Bucher, David Thorpe
and
Kevin Pelton
| ESPN Insider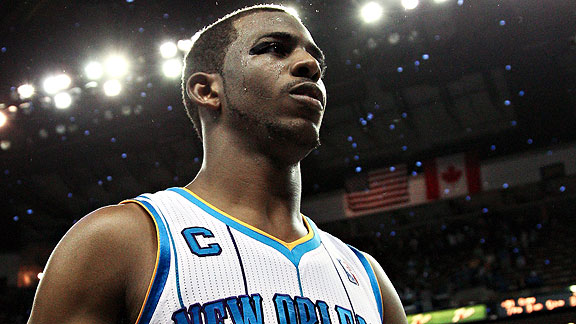 Derick E. Hingle/US PresswireChris Paul will be one of the most sought-after free agents in 2012.
After witnessing the frenzy caused by the 2010 NBA free-agent class that included LeBron James, Dwyane Wade, et al, this year's free-agent crop simply paled in comparison. However, the potential 2012 class -- featuring Chris Paul, Deron Williams and Dwight Howard -- is sizing up to rival 2010's. All week, ESPN Insider's NBA experts will profile these three free agents -- and several others -- better than the FBI. Today we start with Chris Paul.
Scouting breakdown

David Thorpe: With apologies to Derrick Rose, the reigning NBA MVP, Chris Paul is the world's best point guard, and he is so by a decided margin. One of his best assets, as it relates to how well he'd fit onto another team, is that he can excel playing both fast or slow.
In transition, Paul always is looking to occupy defenders as he pushes the ball toward the rim. He's a terrific scoring threat on these drives, having made better than 61.2 percent of those shots in each of the past four seasons (Rose made a career-high 60 percent this year). Teams do all they can to defend this area, which is why he's so great at finding teammates -- they are open all the time. Paul plays with the perfect balance a point guard needs -- ready to score at all times but mindful of using his own talents to create better shots for teammates.
This comes into play in the half-court game as well, particularly in pick-and-roll actions. Paul is a master at slicing off the screener into the heart of the defense, where he goes fast enough to stay in front of his recovering defender but slow enough to read and react to what the defense is doing. He's good enough as a shooter to make a defense pay for going under the screen, and he's a killer when they play it any other way. Paired with a great slashing big man, like Dwight Howard or Amare Stoudemire, he'd reach new heights in halfcourt scoring.
Factor in that he's one of the best few defensive rebounding point guards, and is always one of the league leaders in steals per game, and it's clear that if a playoff team other than Chicago can add CP3 to its roster, it will be a big step closer to getting to the Finals.
Best fit(s): Orlando Magic or New York Knicks
To read more NBA 2012 Free Agent Profiles, become an ESPN Insider today.
Insider
ESPN Staff Writer
Co-author, Pro Basketball Prospectus series
Formerly a consultant with the Indiana Pacers
Developed WARP rating and SCHOENE system