Commentary
Best-laid plans
An inside look at the making and remaking of a winning strategy
Updated:
November 29, 2011, 12:53 PM ET
By
Seth Wickersham
| ESPN The Magazine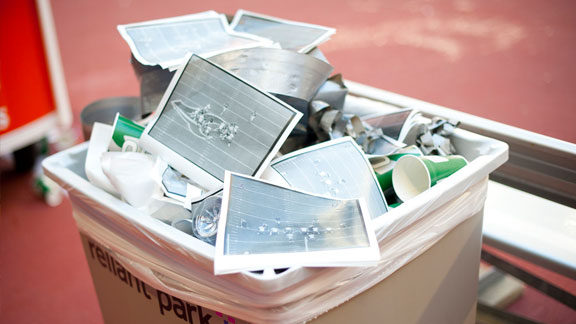 ESPN The MagazineTrash cans inside Houston's coaches' box hold the remains of game plans gone awry.
A TEXANS GAME PLAN STARTS with blank walls in a dimly lit, windowless bunker inside Reliant Stadium. The room has one desk, three chairs, a computer and a flat-screen TV. All four walls, from floor to ceiling, are covered in whiteboard. On this Monday night, as with every Monday night, Houston quarterbacks coach Greg Knapp uncaps a blue marker and fills the walls with notes for quarterback Matt Schaub about the next opponent, in this case the Steelers. Knapp, who is tall and bulky, with dark hair feathered back in the style of his boss, head coach Gary Kubiak, doesn't begin with X's and O's. In fact, he might never draw X's and O's with his marker. He doesn't need to. The X's and O's are contained in code.
Some of the lingo is standard West Coast offense jargon. "Tiger" is a two-tight-ends, one-back formation; "ZEB" stands for Zebra, a three-receiver set; "EAG " is short for Eagle, a four-receiver look. When noting Steelers blitz packages, Knapp writes in Texans-specific dialect: a SAW is a Sam and Will linebacker blitz; a WAP is a blitz involving the Will and "Plug," the team's term for a weakside, inside 3-4 linebacker.
Other notes come from the Texans' scouting report, which Knapp spent the morning studying: "In sub defense, NT comes out. No. 22 goes to nickel; OLBs become DEs; they play all four types of coverage (quarters, two-deep, three-deep, man) behind their blitz package."
Numbers come next. Some stats Knapp finds online: "7 of their 11 starters have 9 or more years' experience," which will remind Schaub that the Steelers are capable of more complicated schemes than most defenses. Other metrics look like calculus: 10x MPX (+) MLB/PLB 35 6x 37 4x. That tells Schaub the Steelers have used a Smack blitz (MPX), which features two linebackers (MLB and PLB), 10 times total this season, including six times from a "35" front and four times using a "37" front.
To be safe, Knapp also types every note onto a study sheet for Schaub. But he doesn't actually expect his quarterback to memorize itthere's far too much information. So why do it? Well, Knapp is like most coaches: The vast amount of preparation helps him sleep at night; it reassures him that come Sunday, he won't be surprised, the worst feeling a man in his profession can have. Deep into this evening, Knapp continues writing, like Will Hunting at the MIT chalkboard: 7x SAW ... 5x Sonic ... 4x Felix ... 4x Cobra ... base packages, sub packages, blitz percentages -- his work ends when the wall does.
For a full look at the making and remaking of the Houston Texans' gameplan for the Week 4 Pittsburgh Steelers game, become an Insider today!
Insider
ESPN Senior Writer
Senior Writer for ESPN.com and ESPN The Magazine
Joined ESPN The Magazine after graduating from the University of Missouri.
Although he primarily covers the NFL, his assignments also have taken him to the Athens Olympics, the World Series, the NCAA tournament and the NHL and NBA playoffs.
ESPN The Magazine: November 28, 2011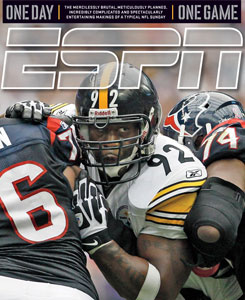 Features
Columns & Go/Play