Commentary
Walton, Bell continue to impress
Updated:
June 6, 2003, 2:13 PM ET
By
Chad Ford
| NBA Insider
Of course, private workouts were only the sideshow to the main event in Chicago. There was plenty going on inside the NBA's pre-draft camp Thursday: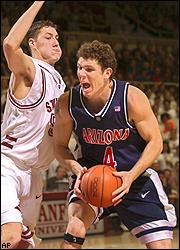 Luke Walton continues to quietly impress NBA scouts.
Arizona's Luke Walton continues to be the darling of the camp. He took only four shots Thursday and made just one of them, but his seven assists and six rebounds were impressive. He got big praise from Big East point guard and camp teammate Troy Bell. "It's really fun playing out there with Luke," Bell told Insider. "He really makes things easier on everybody. I really think he'll make it in the league. He just really knows how to play."
Point guards Bell, Maurice Williams and Carl English all continue to play well. But all of them had trouble finding assists on Thursday. Bell fell off the wagon a little bit when he scored 20 points but only netted one assist. After the game Bell told Insider he was trying to pass the ball. "You only get an assist, if the guy who you throw it to knocks down the shot. I was passing the ball." That is true, and a number of scouts felt his performance wouldn't hurt him. His 3-for-5 shooting from beyond the arc certainly didn't hurt, either.

To continue reading this article you must be an Insider
Insider