Commentary
New Jersey has to take charge
Updated:
June 13, 2003, 12:09 PM ET
By
By Greg Anthony
| Special to ESPN Insider
If you saw the nightmare that was Game 4 on Wednesday night, what you witnessed, while not very pretty, was extremely important in terms of the outcome of this NBA Finals series. And if you're Byron Scott, you have to feel pretty good about your chances.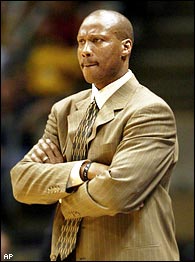 AP Photo/Rusty KennedyByron Scott has to be pleased his team is still in the series.
In four games, your team hasn't once gotten consistent performances from your entire rotation; you were an overwhelming underdog; you have yet to play an up-tempo style; and yet, you're tied 2-2. In Gregg Popovich's case, his team being the favorite, I think the longer the series goes, the more pressure he probably feels. As an underdog, the longer you hang around and give yourself a chance to win, the more your confidence grows. You start to believe that you can and will win, and that's a scary proposition for any team in the role of favorite.
To continue reading this article you must be an Insider
Insider