Commentary
Postseason almost too good to be true
Like Dusty Baker, Jack McKeon's reputation is probably safe regardless of what takes place in the Bronx.
Updated:
October 24, 2003, 11:08 AM ET
By
Jim Baker
| MLB Insider
I was going to write that what Jack McKeon does Saturday night in Game 6 could make or break his reputation as a manger, but that just doesn't fly. Dusty Baker completely mishandled the two closing games of the 2002 World Series yet emerged with his dignity intact and a great offer from another team. That that team -- the Cubs -- also did the folding dance in the playoffs this year in the playoffs has not seemed to have done any further damage to his rep, either. Perhaps Baker is one of these bombproof types who is destined to get a lifetime free pass from the mainstream media.
The ideal four-game outcome
After four games, is there anything better than having a World Series (or LCS) tied at 2-2? Provided one doesn't have a rooting interesting in either team and wants nothing more than the baseball season to go on as long as possible, that is? A 2-2 tie guarantees at least two more games and allows one to plan ahead for at least one more night. It also seems like most 2-2 ties result in three more games, not two. The exceptions? 1996, 1981, 1980, 1978, 1953, 1951, 1944, 1930, 1923, 1917, 1906. OK, 11 Series seems like a lot to qualify as exceptions, but there have been a lot more seven-game World Series than six and many of those Series were once tied at 2-2.
Coincidence or conspiracy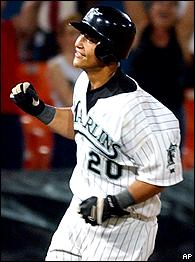 Miguel Cabrera has the ability to become a Hall of Famer.
Jim: Have you noticed that we're getting almost the maximum possible playoff experience this year? Think about it: For the first time ever, there were no sweeps in division series round, and two of them went the maximum five games. For the first time ever, both league championship series went seven games (in '72 and '73, all LDS did go the then-maximum five games), and we're looking at a very real possibility of a seven-game World Series. This year will already set a record for the most postseason games ever. And so many of the games have been so exciting, that truly this is a golden age. And if we can get a seven-game World Series following two nail-biting LCS, well, I promise not to whine too much should the Yankees win.
To continue reading this article you must be an Insider
Insider
EDITORS' PICKS
The BBTN 100 counts down the top 25 players in baseball for 2015.
Rankings »

MLB players weigh in on baseball's best player, PEDs and what they really think about A-Rod's return.
MLB Confidential »

Where does the recently-signed Yoan Moncada land on Keith Law's prospect rankings?
Top 50 update