Spurs, Pistons give more bang for the buck
The fans have spoken and the Spurs, Mavericks and Pistons rule the NBA in their eyes. Insider breaks down this year's NBA Fan Satisfaction Rankings.
Updated:
February 3, 2004, 11:42 AM ET
By
Chad Ford
| NBA Insider
The fans have spoken. Quality players who are good citizens in the community mean more than stars with fat contracts and even fatter rap sheets. Value for the buck means more than deep pockets. An organization's ability to relate to the fans and the city means more, according to you, than winning championships.
How is it possible, in an age of star over inflation, lavish spending and luxury taxes, that a team with one of the most conservative payrolls in the NBA, the San Antonio Spurs, and another team that doesn't have anyone making more than $6.5 million a year, the Detroit Pistons, rank in the top four of ESPN the Magazine's Fan Satisfaction Rankings while the two teams with the highest payrolls in the NBA -- the New York Knicks and Portland Trail Blazers -- rank 27th and 28th respectively?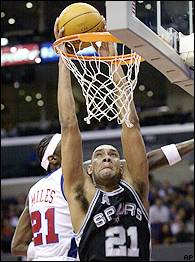 Tim Duncan's effort hasn't gone unnoticed by fans.
Call it bang for your buck. Fans appreciate a good bargain when they see it, and no one does it better than the Spurs and Pistons.
To continue reading this article you must be an Insider
Insider