Commentary
Can the Pacers, Nets or Pistons win it all?
Originally Published:
February 24, 2004
By
Chad Ford
| NBA Insider
It said here in mid-October that none of the 15 teams that make up the Eastern Conference had a shot at winning the NBA championship this season.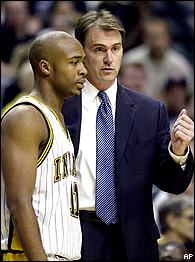 Rick Carlisle has the Pacers atop the East, but how will they fare against the West's best?
Yes, David Stern was still going to allow them to compete for the right to get trampled by the best team in the West. But the ending had all of the suspense of Titanic. We already knew who was going to sink into the icy ocean depths at the end.
At the All-Star Game, Stern reiterated that he isn't worried about the shocking disparity between the haves and have nots in the NBA. Calls to re-seed the playoffs 1-16 irrespective of conference have fallen on deaf ears. Yes, the East's elite teams still live on the wrong side of the tracks, but in the wild and tumble NBA, Stern feels change is always just around the corner.
"These things are cyclical," Pacers president Donnie Walsh told Insider back in October. "When the Bulls were dominating, GMs in the East were crying the same thing about the West. Shifts happen. Eventually, free agents who are hungry for a title will look at the West and decide to move East to have a better shot at a title."
Walsh was right. With recent upgrades in Detroit and New York, the leveling appears to have started. But don't get us wrong -- the West is still the conference to beat.
To continue reading this article you must be an Insider
Insider