Commentary
Can the Blazers or Sonics crack the top eight?
Originally Published:
February 24, 2004
By
Chad Ford
| NBA Insider
Change can be a beautiful thing, especially if you're one of thousands of fans watching Blazers GM John Nash conduct a DEA-like raid on the scourge of the city.
In a matter of months the Jail Blazers have been dissolved. No Rasheed Wallace to scapegoat. No Bonzi Wells and his demonic flying spit bombs to dodge. No Jeff McInnis to deliver the daily dose of pouting.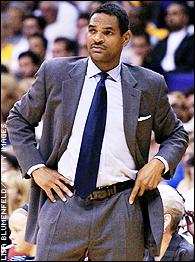 Time is running out for coach Maurice Cheeks and the Blazers.
Maurice Cheeks is smiling once again. Giggling, in fact, when he hears his new star,
Shareef Abdur-Rahim
, is willing to come off the bench in an effort to protect the fragile ego of
Zach Randolph
.
Damon Stoudamire and Dale Davis are suddenly on their best behavior. Theo Ratliff is swatting shots in ways that haven't been seen in Portland in a decade. Darius Miles is flying through the rafters the way he once did in with the Clippers.
Everything is fine now in Portland ... almost. There is that 20-season string of playoff appearances at stake. In the midst of the massive clean-up project, has anyone bothered to look at the standings?
To continue reading this article you must be an Insider
Insider