Commentary
Questions to ponder in 2004
Most gambling websites have posted their propositions for the year and some of them are pretty clever.
Updated:
February 25, 2004, 10:29 AM ET
By
Jim Baker
| MLB Insider
Believe me, I don't want to see you end up living in the Bettor Life Motel surrounded by squalid 1970s furniture, driving a beat-to-hell mid-60s sedan and walking with a limp because a guy named Shelly took out a gambling debt on your knee with a baseball bat. That's not ultimate goal of what I'm going to write today. Yes, it's about gambling, but it is about gambling without suggesting that you actually place wagers.
It's that time of year again. Most gambling websites have posted their propositions for the year and some of them are pretty clever. What follows is a discussion of a few of those proposals. How do I explain this? I am far more interested in the creative process used to make up these proposals than I am in actually betting on them. So, this is not an advertisement for gambling activity (especially for you professional ballplayers and managers who might be reading this). Rather, it is merely a discussion of what one of those off-shore sites has proposed. Below are just a few of the many hundreds of so-called "propositions" posted by this site and those like it.
NL Manager Most Likely to be Fired or to Resign?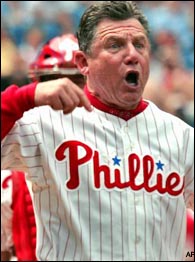 Larry Bowa's combustible personality will be put to the test with higher expectations.
According to this site, Larry Bowa is most likely the first to go and that makes some sense in that the Phillies are also favored to win the division and have spent the past two offseasons improving their team and ownership now wants to see results. With the Braves appearing to take themselves out of the running with their spendthrift ways and with Bowa's well-know mercurial nature, it would seem like he'd be the first to go if something went wrong. It is unlikely that the Phillies will fall flat on their faces this year, but anything short of a division title might be seen as a failure on Bowa's part. The second man on the list is Lloyd McClendon who is the man left holding the bag for the Pirates. Personally, I think he's got a better chance of going first than does Bowa. Dave Miley looks like a real scapegoat candidate in Cincinnati, too. One could certainly see Frank Robinson calling it a career at some point in the season. His odds are middle-of-the-pack to do so.
To continue reading this article you must be an Insider
Insider
EDITORS' PICKS
The BBTN 100 counts down the top 25 players in baseball for 2015.
Rankings »

MLB players weigh in on baseball's best player, PEDs and what they really think about A-Rod's return.
MLB Confidential »

Where does the recently-signed Yoan Moncada land on Keith Law's prospect rankings?
Top 50 update