Commentary
Is NBA to blame for senior shortage?
Updated:
April 9, 2004, 4:30 PM ET
By
Chad Ford
| NBA Insider
Mock Lottery, Mock Draft: See 1,716 potential lottery scenarios
PORTSMOUTH, Va. -- For the second consecutive day at NBA's Portsmouth Invitational Tournament (PIT) draft camp, the story is about who's not here, rather than who is.
After pointing out Thursday that this crop of seniors may be the worst in NBA draft history, it's time to ask the really tough questions. Why? Is it just a fluke that this year's college seniors are so bad? Remember, nine seniors went in the first round of last year's draft, and several of them, including the Bulls' Kirk Hinrich and the Mavericks' Josh Howard, are having great rookie seasons.
Or is this a case of the NBA once again prematurely strip-mining its own resources, then complaining about the inevitable talent erosion? If the NBA had a rule preventing players from entering the draft until after their senior season, players such as Zach Randolph, Caron Butler, Dwyane Wade, Jared Jeffries, Chris Wilcox, Eddie Griffin, Darius Miles, DeShawn Stevenson, Rodney White, Chris Kaman, Qyntel Woods, Michael Sweetney and Luke Ridnour would be added to a class now headlined by Jameer Nelson, Rafael Araujo and Luke Jackson.
While that certainly would be a much better class of seniors, is it, as a whole, much stronger than the current draft class that's filled with underclassmen? Some GMs would be thrilled to have that many talented four-year seniors at their disposal.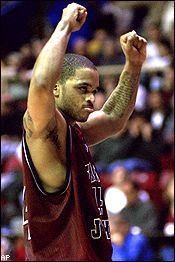 Jameer Nelson will likely be the only senior drafted in the first round this year.
Others, the ones blinded by upside and athletic 7-footers shooting 3s, probably aren't that impressed. Wade looks like he's a star, though he's an undersized two. Randolph and Butler have the talent to be really good. Everyone else? Well, we'll never really know?
This annual conundrum got me thinking about what the league is doing to stop the tidal wave of underclassmen that flood the draft and drain the collegiate ranks. We've already talked about age limits and the possibility of instituting a real minor league that gives young players a place to get experience. Those are the things the league is thinking about doing to solve the problem. Is the NBA doing anything now?
My search led me over the scorer's table, where NBA vice president Stu Jackson was sitting. Jackson, in addition to being the guy who hands out all of the fines and polices the referees (the two most thankless jobs in the NBA), also wears a third cap around draft time. He's the head of the NBA's official Undergraduate Advisory Committee. Jackson's job is to poll a volunteer committee of GMs and directors of player personnel about the draft prospects of underclassmen who are considering entering the draft.
To continue reading this article you must be an Insider
Insider