Commentary
The Passion of the Maccabi: 'We live and breathe it here'
Originally Published:
April 30, 2004
By
Chad Ford
| NBA Insider
Praised be thou, O Lord our God, king of the universe, who has wrought miracles for our forefathers, in days long ago, at this season.
-- Excerpt from a prayer offered at Western "Wailing" Wall in Jerusalem during Passover
TEL AVIV, Israel -- Here, even the name of God is a source of conflagration. He tells Moses, in the Bible, he is the great "I Am." Christians believe the God who spoke to Moses begat Jesus, who struck a new covenant. The Muslims call him Allah.
In Tel Aviv, I would venture he has a thousand different names. If God is the person or thing we worship in life, then, at least to some here, God's name is Basketball, with a capital "B."
Religious devotion may be taken to extremes here, but so is everything else. Passion and belief seem to be the hallmarks of the Israeli people. Of all the places I have traveled, I never have seen a people more crazy about basketball, even the NBA.
Basketball, along with soccer, has become a diversion from the daily struggles. NBA TV televises a game here every night. ESPN broadcasts several NBA games here each week. Combine that with Euroleague games and Israel's own pro league, and you can watch basketball up to five or six hours a night.
Some Israelis do. And with the international basketball world here this week for the Euroleague Final Four, and home team Maccabi Tel Aviv vying for the title, the city is positively buzzing.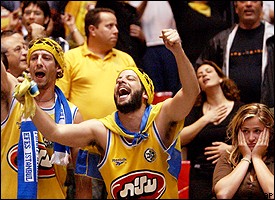 The victory that put Maccabi Tel Aviv into the Euroleague Final Four was hailed as a miracle by local fans and media.
"I think Israelis are more passionate about the NBA than Americans," Israeli sportswriter Yoav Borowitz told me. "We live and breathe it here. I know many Israelis are very disappointed when they come to the states and attend their first live NBA game. They all come back saying the same thing & 'Where's the passion?' "
To continue reading this article you must be an Insider
Insider