Is Peja Samardziski for real?
Updated:
May 18, 2004, 1:21 PM ET
By
Chad Ford
| NBA Insider
Mock Lottery, Mock Draft: See 1,716 potential lottery scenarios
Also see: 5/14 Draft Rumors | Team Needs | Who's in, who's out? | Top 10 by position
NEW YORK (May 11, 2004) -- Peja Samardziski is a kid -- a big kid -- living a dream. He sits in a tiny plastic seat inside Continental Arena, his huge knees pushed up against his chest, and stares out at the sea of fans cheering for the Nets in Game 4 of the Eastern Conference semifinals.
His eyes are bigger than his shoe size at the moment.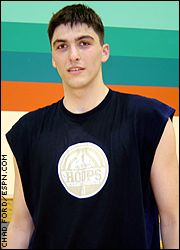 Peja Samardziski is living a dream.
"Wow!" he says several times as he takes in the atmosphere. "This is better than I could have imagined," he said.
Richard Jefferson takes the ball on the wing, sprints toward the basket and makes a huge dunk over Rasheed Wallace. The crowd goes wild. Samardziski, just three days removed from a cold, musty gym in Belgrade, goes wild right along with them.
"Did you see that?" Samardziski says in an excited tone. "How do you say? He was posterized?"
The Nets go on a 10-point run and the crowd is now standing on the feet cheering "Ken-yon Mar-tin." The Nets call a time out. The music blares. The cheerleaders rush onto the court. T-shirts are flying into the stands. Jay-Z and Beyonce are cheering just feet away courtside.
"I love this game," Samardziski says with a huge smile. "I can't wait to get out there."
After the time out, the Nets run a play where Martin essentially bulls his way in, throws Mehmet Okur out of the way, and dunks the ball to the thunderous approval of the masses.
Samardziski loves it in a naive way. Like every kid who's ever picked up a basketball, he envisions that he, like Martin, is doing the slamming. I've been around the league long enough to know that Samardziski, if he comes into the league next season, is much more likely to be the schlub on the floor that Martin is standing over.
To continue reading this article you must be an Insider
Insider