Commentary
Gordon can shoot, but does he measure up?
Updated:
June 1, 2004, 3:22 PM ET
By
Chad Ford
| NBA Insider
Mock Lottery, Mock Draft: See 1,716 potential lottery scenarios
Also see: Another BIG draft mystery | Team Needs | Who's in, who's out? | Top 10 by position
As luck would have it, I stumbled into UConn's Ben Gordon working out at the Sports Club/LA while I was doing a story on Peja Samardziski. The club has two courts, and while Peja was taking a rest on one side, I wandered over to the other side to take a peek at what Gordon was up to.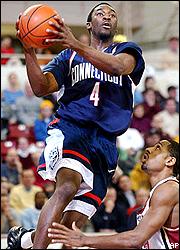 UConn's Ben Gordon is a superior talent, but his height could hurt his draft stock.
Gordon's been working out for several weeks in New York and looks really good. Living in Connecticut, I've seen more of Gordon than most college players, but I never get over how smooth his outside stroke is. The thing that's special about Gordon is his ability to shoot off the dribble. In several drills, he didn't miss a shot as he zigzagged all around the court catching, taking a few dribbles and then elevating for the shot.
His athleticism is obviously superior. He's a very explosive athlete with a big vertical jump and a very quick first step. His ball-handling skills are good. I watched him do several drills with two basketballs and he looked really good. Overall, he spent a couple of hours in the gym and looked like he was in great shape.
After the workout, Gordon wandered over to Samardziski's court and we talked for a few minutes about his expectations and his decision to declare for the draft.
To continue reading this article you must be an Insider
Insider