Commentary
Okafor might convince T-Mac to stay
Updated:
May 28, 2004, 11:04 PM ET
By
Chad Ford
| ESPN Insider
Ford's Mock Draft
Emeka Okafor may not be a franchise player, nor a savior on the court. But the Connecticut standout could very well be the guy who saves the Orlando Magic from self-destructing this summer.
Tracy McGrady's future in Orlando has never been more tenuous. After a tumultuous season in which McGrady openly questioned his desire to remain in Orlando, he had a heart to heart with new GM John Weisbrod. The rub was this: The Magic wanted to know, needed to know, whether T-Mac planned to exercise an opt-out clause in his contract at the end of the 2004-'05 season.
McGrady didn't have an answer. All he knew was that he wanted to win. He'd prefer to win in Orlando. But if the Magic didn't quickly get their act together, he'd take his ball elsewhere.
The task before the Magic was formidable. The team lost more games than anyone else in the league. They were capped out, thanks in large part to an injured Grant Hill sitting on the bench, wearing a cast and earning millions a month to hobble around on crutches. They had the best chance of winning the NBA draft lottery, 25 percent, but history indicated the team with the best shot almost never won.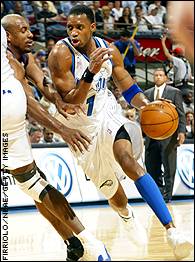 Tony Firriolo/NBAE/Getty ImagesTracy McGrady may now have some incentive to stay in Orlando.

This year's draft is filled with talented players who could make an impact on a team in three or four years. The Magic need someone who can help them now. There isn't a team in the NBA that needs Okafor more than the Magic. After earning the No. 1 pick in the draft in Wednesday's lottery, the Magic might now have the ammunition to convince T-Mac they are back on track.

To continue reading this article you must be an Insider
Insider