Commentary
Veteran center looking to cash in
Updated:
June 30, 2004, 11:48 AM ET
By
Terry Brown
| NBA Insider
In two weeks,
Erick Dampier
will be 30 years old.
He recently opted out of his contract with the
Golden State Warriors
, foregoing around $17 million over the next two years. He and his agent believe they can get more money in free agency, both in the short term (around $10 million or so per season) and long term (four-plus years instead of two).
This belief is a byproduct of Dampier's performance this season for the Warriors. He set career highs in points (12.3 ppg), rebounds (12 rpg), minutes (32.5 mpg) and shooting percentage (53.5 percent). In his eighth season, Dampier played in 72 games, starting all of them, and led his team in blocked shots.
His career year just happened to occur the same year he could become a free agent. Coincidence?
In 1997-98, Dampier's second season in the NBA, he started all 82 games and averaged 11.8 points and 8.7 rebounds per game, (a career high before this season). The following season, his scoring average fell to 8.8 per game and his shooting to 38.9 percent from the field, the lowest of his career.
In 1999-2000, he blew out his left knee and played in only 21 games, and in 2000-01 he played in only 43 games while still trying to recover from the knee injury. He finally was back up to 73 games in 2001-02 but averaged only 7.6 points and 5.3 rebounds while splitting time with Adonal Foyle. Dampier became the full-time starter in 2002-03, but his numbers were still low at 8.2 points and 6.6 rebounds per game.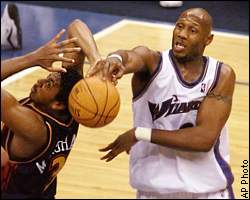 Isaac Austin was never the same player after he signed a lucrative contract.
Then all of a sudden, Dampier grabbed 17 rebounds in the first game of the 2003-04 season. In the third game, he grabbed 23. In a December game he blocked five shots. In January, he blocked seven shots in a game. During a four-game road trip in February, he totaled 76 points, 61 rebounds and 11 blocks. By March, it was no longer news when Dampier went for 26 points, 18 rebounds and two blocks against the Kings or 19 points, 21 rebounds and two blocks against the Wizards.
Suddenly, his opt-out clause and the potential to test the free-agent market made him a commodity.
But before anyone gets carried away, remember this: Dampier is a year younger than Isaac Austin was when he signed his lucrative free agent deal with the Orlando Magic in 1999.
To continue reading this article you must be an Insider
Insider