Commentary
Magic rookie learning to stay clean
Dwight Howard is learning why blocking shots is the hardest skill to teach a young player.
Updated:
July 14, 2004, 3:52 PM ET
By
Terry Brown
| NBA Insider
Dwight Howard grabbed 11 rebounds against the Cleveland Cavaliers in his first game as a member of the Magic at the Pepsi Summer League in Orlando. The No. 1 draft pick scored 15 points in his very next game against the Washington Wizards. In his third game, the 18-year-old tallied 16 points and 12 boards against the New Jersey Nets.
Try and imagine how good this kid is going to be when he learns how to block shots in the NBA.
Not that rejecting 15 shots in five summer league games is bad at all, but Howard is just getting started.
The only problem is that he also accumulated 19 personal fouls in the process.
Of course, that's what summer leagues are all about. In the Rocky Mountain Revue that begins this Friday, players aren't even allowed to foul out. How can we forget about DeSagana Diop in 2002 committing seven fouls in the first game of that tournament. Or seven fouls in the third and fourth game as well. Diop had 28 fouls in five games but all anyone ever talked about was his 22 blocks.
They didn't start talking about it until he committed 283 personal fouls during the regular season over his young career, compared to only 143 blocks.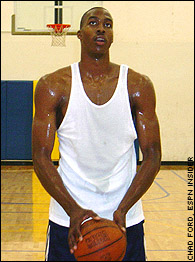 Dwight Howard's major task will be to avoid foul trouble.
And it isn't as though he's gotten any better. Diop also competed in the Pepsi Summer League and had 11 blocked shots in five games to go along with his 17 fouls.
Ken Johnson
, playing for the
Detroit Pistons
in the Minnesota Summer League last week, totaled 10 blocks to go with his 22 fouls.
About the only shot blocker who wasn't hacking away was three-year veteran Loren Woods, now playing for the Charlotte Bobcats summer league team. He had 16 blocks while committing only 10 personal fouls.
Blocking shots is like any other skill in basketball. It takes time and training. Most coaches will tell you it is the hardest skill to teach a young player. Nevertheless, it is still a skill a young player can improve upon.
Theo Ratliff led the league last year with 307 blocks while committing 300 fouls. In his first season as a pro, he totaled 116 blocks to 144 fouls.
Ben Wallace wasn't any different. The two-time Defensive Player of the Year had 246 blocks last season compared to only 162 personal fouls. Over his career, he's at 1,243 blocks to 1,127 fouls. But in his first five seasons as a pro, Wallace totalled 489 blocks and 608 personal fouls.
Some players who have a quicker learning curve when it comes to rejections. Andrei Kirilenko of the Utah Jazz just finished his third season in the NBA. He tallied 215 blocks and 175 fouls. Over his young career, he's got 549 blocks compared to 515 fouls.
During that same 2002 Rocky Mountain Revue, Kirilenko had six blocks and three fouls in two games. Everyone knew they were watching something special. By the end of the 2004 season, he had been voted an NBA All Star and was recognized as one of the best defenders in the game.
Which brings us back to Dwight Howard. Blocking 3 shots per game while committing 3.8 fouls isn't bad. In his last game of the Pepsi Summer League, he notched five blocks and only two fouls. And you can imagine how good this kid will be when he really learns the game.
---
Luke Walton and Kareem Rush both had their moments during the Lakers run to the 2004 NBA Finals. Brian Cook logged 21 precious minutes against the Pistons as a rookie. But so far in the Southern California Summer Pro League, none of this experience is showing up. The three have combined for only 15 points (6 of 20 shooting), 11 boards, five assists, five steals and one block in 80 minutes of combined action. The Lakers have jumped out to a 2-0 record thanks mostly to this year's rookie Sasha Vujacic. The 6-foot-7 Slovenian guard has totaled 34 points (10 of 17 shooting), 10 boards and 10 assists in 49 minutes of play in two games.
---

Araujo
Rafael Araujo of the
Toronto Raptors
isn't playing fair. The 6-foot-11, 280 pound center from Brazil isn't the fastest guy on the court. He isn't going to win any jumping contests. But opposing centers in the Minnesota Summer League are lasting only 15.4 minutes of playing time against him. It may have something to do with the fact that he's grabbed 41 rebounds to their 23. Or it may have to do with the fact that he's committed 26 fouls (10 in one game) without logging a single block. Or it may have to do with the fact that the guy is simply 6-foot-11 and 280 pounds.
---
Plenty of players in the NBA are 6-foot-10. Lots of players weigh 263 pounds. And there several players in the league these days who are 19-years-old.
But Al Jefferson of the Boston Celtics is all of the above.
The Celtics were hoping this monster-child from Prentiss High School in Mississippi could somehow help the third worst rebounding team in the league. Boston averaged only 40.1 rebounds per game last season, trailing its opponents by a whopping 3.7 on average per game.
After the recently completed Pepsi Summer League tournament in Orlando and the opening game of the Reebok Vegas Summer League, the Celtics are doing more than hoping.
In the first game in Orlando, Jefferson played only 19 minutes but grabbed six rebounds. The Celtics may have been holding him back, with questions lingering about his conditioning and rumors that he sometimes let his weight get out of control in the past.
But the very next day, Jefferson played 25 minutes and responded with 10 rebounds. He played 26 minutes in the next game with 9 rebounds. If that wasn't enough, Jefferson played 27 minutes in the fourth game and grabbed another 10 boards. The rugged power forward logged 28 minutes the very next game and grabbed a decent 7 rebounds.
Over the five-day span, Boston totaled 177 rebounds compared to its opponents 155. Jefferson led the team with 42 total and 15 on the offensive end. That's 8.4 rebounds per game in only 25 minutes of play. Even more impressive are the three offensive boards per game when no one on the Celtics' squad averaged more than 2.5 during the regular season last year.