Commentary
Mavs' top guns not producing results
The high-scoring, high-profile Mavericks are somewhere near the bottom of the standings in the summer league.
Updated:
July 23, 2004, 2:57 PM ET
By
Terry Brown
| NBA Insider
Without Dirk Nowitzki or Michael Finley, the Dallas Mavericks lost to the Denver Nuggets on July 18, 87-79.
The Nuggets didn't have Carmelo Anthony, Marcus Camby, Andre Miller, Nene Hilario or recently signed Kenyon Martin, and still beat a team featuring Marquis Daniels, Josh Howard and Devin Harris. Those three players could very well be, in order, the Mavs' starting shooting guard, sixthman and starting point guard.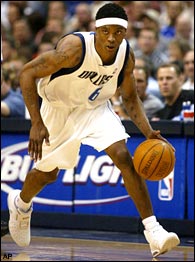 Marquis Daniels' scoring hasn't equaled victories for Dallas.
Going into last night's games, Harris was No. 1 in the Rocky Mountain Revue at 34 minutes per game. Daniels was No. 2 at 33 minutes per game and Howard was No. 4 at 31 minutes per game. Of the 325 field goal attempts by the Mavs' summer league team, these three have taken 194 of them.
They are playing heavy minutes, dominating the ball and they've still won only two of five games in Salt Lake.
The scary part for the Mavericks is these three went up against a Nuggets' starting five of Matt Nielson, Miles Simon, Billy Keys, Nikoloz Tskitishvili and Koko Archibong. The entire Denver roster has only one player who has ever started an NBA game, Francisco Elson, who didn't even play against the Mavs.
Meanwhile, Daniels just signed a lucrative long-term deal with the Mavs after starting 15 games during the regular season and all five of the team's playoff games. He averaged 15.8 ppg in the postseason in 36.8 minutes of play. Howard had 29 starts last year and averaged 8.6 points per game. Harris was the No. 5 pick of the draft.
It wasn't any different against the Hawks or Bobcats, later in the tournament. Atlanta had only one player on the roster with any experience, Travis Hansen. He started only four games in his career. Expansion Charlotte had only the recently traded Melvin Ely, two career starts, and Jason Kapono, three career starts.
Daniels is leading the Revue in scoring at 17.2 points per game and Harris is seventh at 15.4 points per game. Howard is ahead of both of them at 17.5, but isn't ranked because he's played in four of five games.
But the important stat is these high-scoring, high-profile Mavericks are somewhere near the bottom of the standings, while the no-name Nuggets are 5-0.
---
There are two sides to 20-year-old Sasha Vujacic, and the Los Angeles Lakers are liking both of them.
Sasha the shooting guard spent the first four games of the Southern California Summer Pro League proving he could score. He averaged 16 points per game on 46.5 percent shooting, while taking 10.7 shots per game. Unfortunately, his team was 2-2 and only scoring 86 points per game on 41.2 percent shooting.
So next came Sasha the point guard, who took only seven shots per game in the last two contests. Vujacic scored only 6.5 points while committing 13 turnovers. The team went 2-0 while scoring 100.5 points per game on 48.7 percent shooting.
---
The worst 3-point shooting team in the entire summer league schedule could very well be Seattle. The Sonics couldn't be happier that Nick Collison is 0-for-2 from distance while becoming the Rocky Mountain Revue's second-leading rebounder at 7.6 per contest.
The regular-season version of the green and gold team had enough long-range shooting last year. Rashard Lewis took 386 3-point shots in 80 games. Ray Allen took 378 in 56 games. Flip Murray took 229 off the bench. Power forward Vladimir Radmanovic took 377 in 77 games.
Collison
Three out of every 10 shots the Sonics took was a 3-pointer. How could you blame them when they were the second best shooting team in the league from distance at 37.3 percent.
However, Seattle was the absolute worst rebounding team int the league, pulling down only 39.3 rebounds per game. They didn't have a single player who averaged more than 6.5 boards a contest.
Much of that was due to Nick Collison, the No. 12 pick of the 2003 draft, injuring himself during the offseason and never playing a single game for the Sonics.
But Collison is healed up and ready to rebound. In the first game of the Rocky Mountain Revue, Collison led the Sonics to a 37-30 rebounding edge. In the second game, the Sonics outrebounded their opponents 39-37. In the third game, they were even at 30 rebounds each. In the fourth game, they outrebounded their opponents 34-28.
Damien Wilkins is getting most of the applause for the Sonics, while averaging 17.2 points per game. But it's Collison who is making the biggest impact for Seattle.
---
Indiana Pacers' forward James Jones has made 7 of 11 3-point shots and is averaging 15.5 points per game. Center Ruben Bountje Bountje has made 8 of 8 free throws after going 14-for-38 in regular-season games over his career . . . San Antonio Spurs rookie point guard Ben Udrih has made 11 of 15 field goals, while Marque Perry has totaled 19 assists in only three games . . . Utah Jazz big man Curtis Borchardt is leading the Revue with 8.3 rebounds per game and is third in blocks per game at 2.2 . . . This year's Hacker Award at the Revue may very well go to a guard. Sonics point guard Mateen Cleaves has 26 personal fouls in only 114 minutes of action. Close behind are Darius Rice and James Thomas, both forwards for the Blazers, who have 24 fouls each through five games.