Commentary
Okafor jeopardizing fresh start
Updated:
July 28, 2004, 11:09 AM ET
By
Terry Brown
| NBA Insider
The good news is that power forward Emeka Okafor was not seriously injured after twisting his ankle in Monday's practice with Team USA while preparing for the Athens Olympics.
The bad news, however, is that the Charlotte Bobcats may not know that X-rays came back negative and Okafor most likely will continue to play.
"We are somewhat concerned because all that basketball causes a lot of wear and tear and prevents you from being fresh at the start of the season," Bobcats coach and general manager Bernie Bickerstaff said after learning of Okafor's selection to the team in June. "We have many concerns that we want to address."

Okafor
Okafor signed a $10 million contract with the Bobcats and is expected to be the cornerstone of the expansion franchise.
But he wouldn't be the first player to participate in additional summer activities and have them affect his performance during the NBA's regular season. While no one directly blames last year's Olympic Qualifying Tournament in Puerto Rico, the fact remains that several players on that squad did experience subpar seasons directly following it.

That tournament lasted from Aug. 20 to Aug. 31 and was played in Puerto Rico as Team USA went 10-0 in competition with an average margin of victory of 30.9 points.

One loss, however, may have been rookie Nick Collison. He was the only college player selected for the squad, and after playing in eight of those games, he tore up both of his shoulders in late September and ended up missing the entire 2004 NBA season after having surgery.

Okafor is the only college player selected for this squad that has three holdovers from the team that went to Puerto Rico.

Tim Duncan led that team in scoring and rebounding then returned to play for the Spurs a few months later. But after playing in 81 games in 2003 and averaging 23.3 points, 12.9 rebounds and 2.9 blocks per game on 51 percent shooting while leading San Antonio to an NBA title, Duncan averaged 22.3 points, 12.4 rebounds and 2.6 blocks per game in 2004 as the Spurs lost in the Western Conference semifinals.

The statistical drop may have been minimal until one realizes that he played in only 68 games last year.

Allen Iverson also played in Puerto Rico and went from scoring 27.6 points per game on 41 percent shooting in 2003 to 26.4 points on 38 percent shooting in 2004. Even more revealing is that he played a full 82 games in 2003 but only 48 games in 2004.

The list goes on.

Jason Kidd, the team's starting point guard, went from 18.7 points on 41 percent shooting in 80 games in 2003 to 15.5 points on 38 percent shooting in 67 games in 2004. Ray Allen's number stayed relatively the same, but he played in only 56 games following the qualifying tournament after playing in 76 games the season before.

Tracy McGrady went from 32.1 points and 6.5 rebounds on 45 percent shooting in 74 games to 28 points and 6 rebounds on 41 percent shooting in 67 games.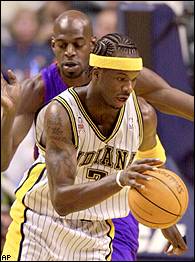 Jermaine O'Neal was one of several stars who felt the effects of competing last summer.

Jermaine O'Neal saw statistical drops in scoring, rebounding and shooting percentage following his Puerto Rico experience and then limped through the Eastern Conference Finals after starting all 10 games in the summer, 78 games during the regular season and 16 games in the playoffs. Elton Brand played in Puerto Rico and then fractured his foot in the first game of the regular season.

But that doesn't mean that all of Team USA's members were hurt physically. Mike Bibby, Vince Carter, Richard Jefferson and Kenyon Martin all went on to put up strong statistical numbers after Puerto Rico and play in a substantial amount of games. But at the end of the season, they were all either eliminated from the playoffs earlier than usual or didn't qualify at all.

Of course, there are several factors going into each of these player's 2004 performances, but the mental strain and fatigue may have been a factor.

Bibby's Kings were eliminated in the second round as he shot 38 percent from the field. Jefferson and Martin were also eliminated in the second round after the Nets made it to the NBA Finals the previous two seasons. Carter's Raptors won only 33 games despite the fact that he played in 73.

Kevin Garnett didn't play at all in Puerto Rico and he went on to win the 2004 MVP Award while pushing his team to the Western Conference Finals after it had never advanced out of the first round previously. Shaquille O'Neal and Kobe Bryant didn't play and they made it to the Finals for the fourth time in five years. Ben Wallace and Rip Hamilton didn't play in Puerto Rico after being on previous national teams, but returned refreshed to Detroit and won the 2004 NBA Championship.

Now, these are all NBA veterans who know the pro game and have more developed bodies. Okafor, on the other hand, is scheduled to play his first NBA game in October with 81 to follow and a five-year contract ensuing.

In the course of eight months, Okafor will or will have already won an NCAA championship, become the second pick of the NBA draft, compete for Olympic Gold and carry the hopes and dreams of a new professional sports franchise on his already-sore back.

And not so coincidently, Collison is also expected to play his first NBA game in October.