Power forward adds muscle to Utah
Carlos Boozer will help turn each and every Jazz game into an excruciating exercise of execution and patience.
Updated:
August 11, 2004, 11:56 AM ET
By
Terry Brown
| NBA Insider
Don't expect Carlos Boozer to be the next Karl Malone in Utah. Don't expect him to post Hall of Fame numbers like the Mailman or attain all-star status like Andrei Kirilenko. He likely won't even receive the cult credentials of former big man Mark Eaton.
Boozer won't even block half as many shots as Greg Ostertag did last year, despite the fact that he could very well play twice as many minutes.
But Boozer will help Utah hold opponents to only one shot per possession, and turn each and every Jazz game into an excruciating exercise of execution and patience.

The Jazz may already be the best rebounding team in the NBA. They averaged only 41.1 boards per game last year to rank 22nd in the league. They didn't have a single player grab more than 8.1 per game. Ostertag, the starting center at the beginning of the season, averaged only 7.4. Tom Gugliotta, the starting power forward at the end of the season, averaged only 5.2.

But they still held the largest rebounding margin, 4.59, in the entire NBA. Utah actually outrebounded its opponents by a total of 376 boards over the course of the season.

The team's leading rebounder weighed more than 115 pounds less than Shaquille O'Neal. Matt Harpring, the top returning rebounder from 2003, missed 31 games in 2004. But somehow, someway, they held opponents to only 10.6 offensive rebounds per game.

The Pacers also held opponents to 10.6 offensive rebounds per game, but they have Jermaine O'Neal. The Spurs gave up 11.1 with Tim Duncan patrolling the paint. The Lakers had Shaq and Malone and gave up 11.2. The Pistons, with two-time board king Ben Wallace in the middle, gave up 12 every night. The Timberwolves had last year's rebounding champ, Kevin Garnett, and they gave up 12.2.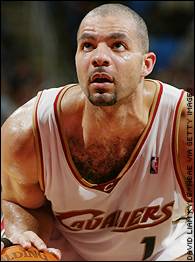 Carlos Boozer will help make Utah even tougher to score against.

But Utah, with a league-low payroll of $34.7 million and not a single all-star on its roster at the beginning of the season, held opponents to only 10.6 offensive rebounds per game. And they did this with an offensive scheme that kept shots to a minimum, and a defense that relied on smoke, mirrors and team principles.

Last year, the Jazz scored only 89.8 points per game, the third lowest in the league. In a typical Utah game, there were only 146.9 shot attempts between the two teams. The Mavericks led the league in scoring at 105.2 per game. In a typical Dallas game, there would be a total of 171.2 shots between both teams.

The Jazz slowed the game down and forced teams into a reduced number of shots. And that was without Boozer.

The Cavaliers grabbed more rebounds than any other team in the NBA at 45.5 per contest. They were also third in rebounding margin at plus 3.55.

Boozer more than did his share by leading the team with 11.4 per contest. The 6-foot-9 power forward was fifth in the entire league in this category behind only Garnett, Duncan, Wallace and Eric Dampier. He was seventh in the league in offensive rebounding and third best in the NBA in defensive rebounding.

Boozer averaged a whopping 8.4 defensive rebounds per game. The Jazz didn't have anyone who averaged more than 8.1 total rebounds per game last year.

Many believe he won't keep up this pace in the much bigger Western Conference. Boozer may score less and not even block a full shot per game on the defensive end, but he can clear boards with anyone.

As a rookie, playing limited minutes on a team with limited talent, he still averaged a rebound every 3.3 minutes. The following season he boosted that number to a board every 3 minutes.

Boozer went from averaging 7.5 rebounds per game in 2003 to 11.4 in 2004. The significant thing is that he was averaging more rebounds per minute than ever and there is every indication that if he had played more minutes he would have grabbed even more rebounds. In home games where he averaged 35.9 minutes of playing time per game, he averaged 11.8 total rebounds per contest and 8.6 defensive rebounds.

The Jazz are not going to score a lot of points this upcoming season. They aren't going to be reserving a lot of time on during the highlight section of SportsCenter, either. But with the addition of Boozer, they are going to hold opponents to even fewer shots and fewer points than last year.