Martin should flourish in Denver
Updated:
August 18, 2004, 9:54 AM ET
By
Terry Brown
| NBA Insider
If Kenyon Martin, the newest member of the Denver Nuggets, is going to miss Jason Kidd and the team that twice took him to the NBA Finals in his first four seasons as a professional basketball player, then why is he smiling so much?
After all, Martin has never averaged more than 17 points per game in any season despite playing with the best point guard in the NBA. He has never averaged double-digit rebounds despite being a starting power forward in 280 of his 283 games. And despite being the consensus college player of the year and the No. 1 pick of the 2000 NBA draft, he didn't win the Rookie of the Year award in 2001.
Then why are the Nuggets, who gave him a 7-year, $90 million deal this offseason, smiling just as wide?
Maybe, just maybe, Martin and the Nuggets took a look at the statistics and realized that while Martin and Nets were a good mix, they were an even better one.

By the time the 2004 season ended, the Nets had been eliminated by the Detroit Pistons in the second round of playoffs with Martin averaging 19.1 points and 11 rebounds on 53 percent shooting in 11 postseason games while an injured Kidd posted 12.6 points per game on 33 percent shooting in that same amount of time.

Kidd was about to enter rehab following knee surgery. Martin was about to enter free agency.

But that was only part of the story.

After averaging 96.2 points per game in 2002 and advancing to the NBA Finals, the Nets went down to 95.4 points per game in 2003 and 90.3 points per game in 2004. They were running less and looking older with every fastbreak. Whether or not the Nets were going to re-sign Martin, there were cost-cutting moves in the immediate future. Even with the subtraction of Martin's salary from the payroll, the Nets still watched Kerry Kittles and Rodney Rogers depart for nothing more than draft picks.

But there were a few numbers that were even more telling to the Nuggets.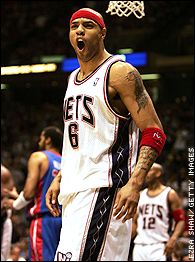 A player of Martin's caliber and skill set is just what the Nuggets need to take the next step.

Martin matched his career high in points on a season by posting 16.7 per game last year and registered a career high of 9.5 rebounds per game. But in the five games that he played while Kidd was injured, Martin averaged 17 points and 10.4 rebounds compared to the 16.6 and 9.4 he averaged when Kidd was playing.

And in the seven games that Kidd played while Martin was injured, the All-NBA point guard averaged 8.5 assists per game compared to the 9.3 assists per game he averaged when Martin was on the floor.

Perhaps at this point in their careers, Kidd was beginning to need Martin more than Martin needed him.

Sure, Martin got a lot more dunks and layups and highlight clips with Kidd on the floor, shooting a nice 48.8 percent when the two were together and only 44.3 percent when alone, but it isn't like Kidd is the only player who can pass in the NBA.

In 2002, Andre Miller led the entire NBA with 10.2 assists per game while playing for the Cleveland Cavaliers. The year before that, he averaged eight assists per game. And the year before that, he averaged 5.8 assists per game while playing only 25 minutes a contest.

His numbers dropped off in 2003 while playing for the Clippers and fell to 6.1 assists per game with the Nuggets last year. But those statistics are just a little bit more than deceiving when coupled with what was going on around him.

Before Miller arrived in Denver, Nene shot a whopping 52 percent as a rookie. A year later, with Miller as his point guard, he improved to 53 percent from the floor. Marcus Camby went from shooting 41 percent without Miller to shooting 47.7 percent with him. Reserve big man Chris Anderson went from 40 percent to 44 percent under the same circumstances.

That's the entire frontline for the Nuggets getting better in just one year with Miller, but it's not the whole story. As a team, the Nuggets went from scoring 84.2 points per game and shooting 41.1 percent in 2003 to scoring 97.2 points per game shooting 44.3 percent in 2004. Under Miller, the Nuggets became the fifth-highest scoring team in the NBA. The Nets, meanwhile, fell to 23rd.

While Miller's individual assist numbers seemed to be dipping, his team was getting better shots and making more baskets. But there's one more thing to take into account.

Not only did rookie sensation Carmelo Anthony lead the team in scoring with 21 points per game, but he shot 525 free throws on the season. That equaled about 6.4 free throws per contest. Compare that to the 5.8 free throws per game that LeBron James shot. Or the 5.2 free throws per game that Peja Stojakovic, the No. 2 scoring in the NBA last season, shot. Heck, the league's leading scorer, Tracy McGrady, shot 7.4 free throws per contest and he's a two-time All-NBA first teamer.

That's 6.4 free throws per game for Anthony of which no assist credits are given. If Miller drives the lane, dishes to Anthony, who is fouled and awarded two free throws, Melo might get the two points but Miller isn't going to an assist.

With Anthony almost certainly to improve upon his 32.8 percentage from the field, it isn't hard to imagine Miller's assist numbers getting better even if the high-flying Martin had never arrived in Denver.

But don't think that Martin isn't getting any help, either. Over the last two years in New Jersey, only one Nets player beside Martin averaged more than 6.4 rebounds per game, and that was Kidd. In fact, the starting center, Jason Collins, averaged only 5.1 rebounds per game in 2004 and only 4.5 rebounds per game in 2003.

Last year, Camby averaged 10.1 rebounds and 2.6 blocks per game for the Nuggets. Nena is 6-foot-11, 260 pounds with a longer wingspan than Yao Ming. Maybe the 7-foot Nikoloz Tskitishvili will hit a few triples off the bench this season.

Either way, there are several reasons for both Martin and the Nuggets to be smiling this summer.