Commentary
NBA game simply doesn't translate
Updated:
August 25, 2004, 8:17 AM ET
By
Terry Brown
| NBA Insider
Before Team USA was blown out by Puerto Rico in its first game of the 2004 Olympics, Pau Gasol and the Spaniards beat NBA all-star Yao Ming and the Chinese, 83-58.
Gasol
Yao
On the same day two-time NBA MVP
Tim Duncan
and the U.S. lost to Lithuania to fall to 2-2 in pool play, Spain's Jose Manuel Calderon scored 15 points in a win over defending world champion Serbia-Montenegro.
Now, three-time NBA scoring champ Allen Iverson and his U.S. mates face Spain on the world stage in what many believe could signal the end of basketball supremacy for the U.S.
One more loss Thursday and Team USA will go home as the seventh or eighth best international team. One more win for Spain and it moves to 6-0 in Athens.
And while many are wondering why the Americans don't have a shooter on the roster, didn't have more than 10 days to practice or haven't figured out the trapezoid lane, there is another question that begs to be asked.
How would Spain, or any other international team, fare in the NBA?
How would they do on our courts with our rectangular lane, extended 3-point line and dotted half-circle under the basket?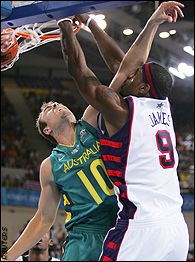 LeBron James tore up the NBA as a rookie, but it took him a while to figure out the international game.

"They would struggle," said an NBA scout who has spent the last six summers of his life helping coach a foreign team in international competition. "They would do very poorly. Our power players would really beat them up inside. I would say that over an NBA season, they wouldn't win more than 20 or so games."

Not 19 or 21. But 20. As in 20-62 or eight fewer wins than the hapless Clippers won last season, or three fewer than the cursed Chicago Bulls, or one fewer than the miserable Orlando Magic, lost 19 in a row in November.

A 20-62 record would have made them the worst squad in the 29-team NBA last season and quite possibly the worst of next season's 30-team NBA.

"They're not very big and not very physical," said the scout. "Plus, the NBA game is a lot longer."

But this is Spain, the team that beat China by 25 and tournament favorite Argentina by 11. Spain also beat Italy, which had beaten Team USA in an exhibition before the Olympics started, and defending world champion Serbia-Montenegro. This is the team led by Gasol and his 18.2 points per game -- three points better than Duncan's 15.6 average.

But, then again, this is not the NBA. It's the Olympics, where they play with international rules, international referees and international pick-and-rolls at the top of the key.

But isn't this our game? The one with Air Hightops and traveling circuses on video and Stephon Marbury getting paid $13.5 million a season in the States and averaging only 3.4 assists abroad?

"Not all of the world wants to change to the NBA," said the scout. "I've spent the last six years watching international basketball, and it's been a very eye-opening experience. It's been a lot of fun. But these players in Serbia and Germany and Greece, they've got their own style of play that they enjoy. They have their own game that they like."

So -- gasp -- does that mean the country that invented the game with a peach basket and perfected it with 6-foot-9 point guards and 7-foot small forwards will change to reflect the international game of basketball?

"I hope so," said the scout. "But until we understand that there is a difference between individual skills and one-on-one skills, it isn't going to happen. We pamper our players too much. And the same thing that makes the NBA so good is the same thing that will be its downfall -- athleticism."

But as it stands now, there is one thing certain. The NBA game and the international game are two different things. The rules, the court, the mentality mix together to form two dissimilar versions of the same game.
Jefferson

Put Richard Jefferson, an NBA all-star in waiting, on the international scene and you get an 0-for-7 night against Greece. At the same time, put Sarunas Jasikevicius and his 16 points per game in Athens in the NBA, and he doesn't even get drafted.

Jefferson vs. Jasikevicius.

U.S. vs. the World.

"I still think we can come away with the Gold," the scout said, but he noted at least one more difference that could keep the NBA guys from that goal. "Their all-stars just know how to pass."