Marbury's performance no big surprise
Updated:
August 27, 2004, 10:53 AM ET
By
Terry Brown
| NBA Insider
On Thursday, Stephon Marbury scored a United States Olympic record 31 points on 10-for-15 shooting from the field. He drilled 6 of 9 3-pointers as Team USA defeated previously unbeaten and top-seeded Spain in the quarterfinals of the 2004 Olympic Games.
Prior to the game against Spain, Marbury was 6-for-30 from the field in five games as Team USA posted a 3-2 record in pool play.
As Team USA prepares to face Argentina for the right to advance to the gold-medal game, many are wondering which Stephon Marbury is going to show up.
Is it going to be the guy who went 1-for-5 versus Puerto Rico, 0-for-4 versus Australia and 2-for-14 versus Lithuania, in a game that came down to three points in the final 45 seconds?
Or is it going to be the guy who hit two out of every three shots he took against Spain?

The answer is probably going to be neither.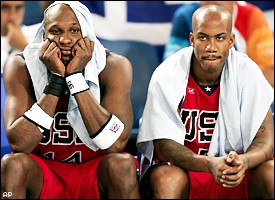 APStephon Marbury was the first to recapture his stroke, but others should follow.

In just over two seasons as a member of the Minnesota Timberwolves, Marbury shot 41.1 percent from the field. In New Jersey, he shot 43.6 percent. In Phoenix, he shot 43.8 percent. Last year, he shot 43.1 percent for the Knicks.

For his career, Marbury has taken 9,914 shots in the NBA and made 4,272 for 43.1 percent.

He is going to have good games and he is going to have bad games. But he's probably going to shoot somewhere between 41 and 44 percent over the course of any NBA season.

Team USA isn't always going to shoot 26-for-75 from the field like it did against Puerto Rico in its opening game of this tournament. And the Americans are not going to shoot 33-for-60 like they did against Angola.

Last season, NBA players attempted a combined 183,862 shots and made 83,254 for 45.2 percent. While most are criticizing this team for not having good enough shooters, the 12 players on this team have shot exactly 45.2 percent from the field over their combined careers. This is the NBA.

From Marbury to Allen Iverson to Tim Duncan, to youngsters like Dwyane Wade and LeBron James, this is American basketball.

We certainly could have tilted the scales by adding noted marksmen like Ray Allen or Brent Barry to the squad, but Team USA represents an exact image of who we really are.

After the first three games in these Olympics, Team USA shot 43.8 percent from the field. In the latest three games, it's shot 50 percent, including the 36-for-71 performance against Spain.

With a shorter 3-point line and less athletic players guarding them, it is conceivable the Americans will continue to shoot better.

The Spanish, who have shot 47.8 percent from the field, were hoping, perhaps even expecting, Team USA would have another poor shooting night. Lithuania, which has shot 53.3 percent from the field, will perhaps be thinking the same thing if it should meet the Americans in the gold-medal game.

They shouldn't count on it.

Marbury may not go for another 31 points. But several of his teammates probably will push their collective shooting percentages to right around where they should be.