Commentary
Third season the charm for Yao?
Updated:
October 25, 2004, 4:45 PM ET
By
Terry Brown
| NBA Insider
One day after
Brad Miller
scores a game-high 19 points in an exhibition game while his Sacramento King teammate
Mike Bibby
scores 17,
Yao Ming
gets the headline with 14.
Houston Rocket forward Juwan Howard had a game-high 12 rebounds while Chris Webber had 11. Ming had 7. Heck, by looking at the box score it was hard to tell if Yao should have even been the starting center for the Rockets in front of 11,000 screaming Chinese on Thursday night Shanghai.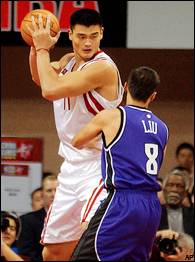 Yao had 14 points, seven boards and five turnovers in 26 minutes Thursday in the NBA's first game in China.
Yao Ming
(Thursday): 14 points, 7 rebounds and one block on 40 percent shooting in 26 minutes
Dikembe Mutombo: (Thursday): 10 points, 9 rebounds and 2 blocks on 66 percent shooting in 19 minutes.
It might have very well been China's first NBA game and every one of those fans might have been cheering Yao's name even when he wasn't on the floor, but that doesn't change the fact that the opposing team's center led them in scoring. Yao was his team's third-leading rebounder, and Shaq just got traded to the East.
One of these days, Yao is going to have to earn these headlines.
To continue reading this article you must be an Insider
Insider