Commentary
Oh, brother
Updated:
December 16, 1999, 2:49 PM ET
By
Jeff Miller
| ESPN The Magazine
There's been a slash, and there's blood. So there's anger, too. Inside the sweating walls of this dressing room, the mood bubbles to a boil, while outside the Zamboni smooths over what it can for the next period. There will be revenge, all right. All your Washington Capital teammates agree on that much. Someone will get that S.O.B.
You squirm and say nothing. You know this is just the way it works in the NHL -- even more brutal than boxing, seeing as how here they take off their gloves before they fight. But this is a little different. Because that monster in the other room, that jackass your guys want to get, that no good piece of ... That's your little brother.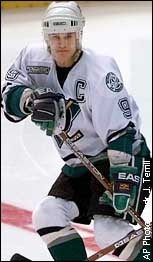 Paul Kariya has four years on his brother.
To continue reading this article you must be an Insider
Insider
ESPN.com