Christian Hackenberg fitting in
Football was a natural fit for him and the top-rated QB became a natural fit at PSU
Originally Published:
June 17, 2012
By
Erik McKinney
| RecruitingNation
While most of us would display our ancestry on a family tree, it wouldn't be surprising in the least to find that Christian Hackenberg lists his on a passing tree -- hitches, curls and go routes sprinkled among grandfathers and uncles. The No. 1 quarterback in the country simply didn't have a choice when it came to football. He was born into it.
His father, Erick Hackenberg, was recruited to the University of Virginia, later starred for Susquehanna University and then took up coaching. His uncles played football. His grandfathers had opportunities in the NFL and one spent 25 years as a high school coach. Even his great grandfathers were football players.
[+] Enlarge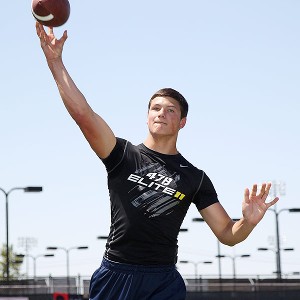 Tom Hauck/ESPNHS Christian Hackenberg, the No. 1 quarterback in the country, is just what Penn State fans needed -- hope and something to look forward to.
"I grew up on the sidelines," said Christian Hackenberg, who plays for Fork Union Military Academy in Fork Union, Va. "I guess you could say I've breathed football ever since I could walk."
At 6-foot-4 and 215 pounds, the No. 10 overall player in the ESPN 150 is the kind of athlete who could have pushed himself to excel at any number of sports. But again, there was never much doubt that cleats and shoulder pads would feature prominently in his athletic career.
"Once my dad saw me spin a ball, he started training me," Hackenberg said. "He started instilling the fundamentals in me when I was young."
Eventually, those fundamentals led Hackenberg to the college recruiting process and offers from programs such as Alabama, Florida, South Carolina, Tennessee and Virginia. He had plenty of guidance throughout his recruitment from his father and from his head coach, John Shuman. Both had been through the process themselves. Shuman has overseen the journeys of first-round NFL draft picks such as Eddie George, Chris Perry and Gaines Adams. Their advice to Hackenberg was to make a list of what he was looking for in a school and to take that list everywhere he went and write down all the answers from each school to the questions he had. It was a fairly straightforward process, but the final decision was even easier. Hackenberg was headed back home.
Hackenberg was born in Temaqua, Pa., a place he described as "a small town up in the northeastern coal regions of Pennsylvania." It's about a two-hour drive from Penn State, the school that had everything Hackenberg was looking for.
"I'm originally from the area, so I understand what it's about up there," he said. "Ultimately Penn State fell in line. I loved it up there socially. From an academic standpoint, it checks all the boxes. And, of course, from a football standpoint -- which I usually looked at last -- I had the opportunity to come in there and play early under coach [Bill] O'Brien, who is a great offensive mind, and the opportunity to play in a program with that much tradition. There are only a couple of them in the country."
But even with the Nittany Lions serving as such an obvious choice for him, it's debatable as to what is the better fit -- Penn State for Hackenberg, or Hackenberg for Penn State. From on-field issues such as inconsistent quarterback play, to much larger situations off of it, Penn State needed something to look forward to. And while there is still a full season of football to be played before Hackenberg has a chance to make an impact, it's easy to imagine the self-described "good country boy" -- who's already excited about taking advantage of the trout streams around campus -- becoming a focal point for a program looking to open a new chapter. He already serves as a lightning rod for a top-15 recruiting class, as he has formed a tight bond with his fellow commits.
"I just want to start the new era off right in trying to build this class," he said. "I know there's a bunch of guys helping out and we want to start the new staff off right with a great class and then build upon that."
Hackenberg got the ball rolling by serving as the first commitment for Penn State in the 2013 recruiting class when he joined on the final day of February. He did it without fanfare or media presence, in keeping with his low-key attitude.
That calm nature should endear Hackenberg to Nittany Lions fans looking for a steady presence to right the ship. Of course, that big right arm will go a long way there as well.
ESPN Staff Writer
Covers recruiting in the Pac-12
Joined ESPN in 2009
Graduated from USC
EDITORS' PICKS
Ready to start?

Rivalry recruiting

Comparing scouts
MORE COLLEGE FOOTBALL HEADLINES