Updated:
June 03, 2015, 02:28 PM EST
Future 100: Prep Rodgers is No. 1
Florida high-school shortstop Brendan Rodgers is the top draft prospect for '15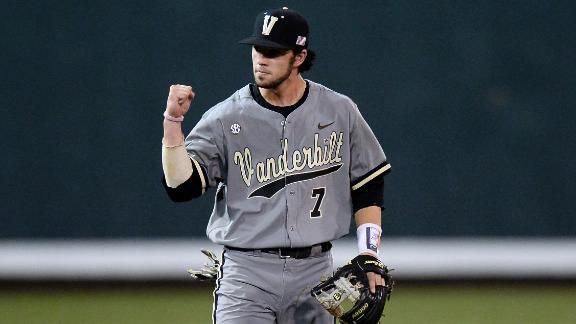 Keith Law's Top 100 draft prospects
This is the final (barring some catastrophic news) ranking of prospects for this year's Rule 4 draft, with only modest changes up top and some reshuffling later in the list (compared with my initial top 100 draft prospects on May 13). It remains a very strong class for middle infielders, especially college guys, and a weak class for prep arms and high-floor college starters.
Some notes on significant changes beyond the top 25:
• Kyler Murray is off the list after declining to fulfill MLB requirements for draft eligibility. We'll see him again in 2018.
• Josh Naylor moves up to No. 49 after a strong finish to his spring with Team Canada, including a strong run in the Dominican Republic -- the same trip that helped solidify Brett Lawrie as a first-rounder in 2008 -- that earned him some comparisons to Prince Fielder.
• Las Vegas high school shortstop Cadyn Grenier jumps onto the list at No. 59. He comes from one of the best baseball programs in the country, the alma mater of Rangers prospect Joey Gallo.
• Luken Baker has told scouts he intends to attend TCU, but considering he remains draft-eligible -- that letter is as binding as acrylate-copolymer microspheres -- he's still on this list. Such letters are sometimes ploys to manipulate the draft and make a player slide to a particular team, although I have no idea if that's the case here.
• Two more prep arms enter the back of the list: Sacramento, California, right-hander Tanner Dodson, who has been up to 96-97 mph; and Alton, Illinois, lefty Bryan Hudson, a 6-foot-7 kid with a big curveball and a lot of projection left.
Let's get to the top 100 MLB draft prospects. Note that this is not a mock draft -- my latest mock (2.0) is available here -- but rather how I'd rank them. Many of the names link out to player profiles, written by Christopher Crawford, Eric Longenhagen and myself. We're still working on the profiles of the names that don't link out.
1
SCHOOL:
Lake Mary (Fla.) High School

Still the top prospect in the class for me, a true shortstop with feel to hit and the potential for average or better power down the road. Questions about his bat (such as his bat speed) seem spurious given how well he hit velocity all of last summer, garnering well more than 100 at-bats against the best prep pitchers in the country, with excellent results. | Scouting video

2
Newman is also a surefire shortstop with tremendous feel to hit; he's the second-toughest college hitter in the draft class to strike out, just a shade behind Donnie Dewees (No. 73), who did it against weaker competition. Newman is a plus runner with the hand strength to have power, but he'll need to narrow his stance to get to the 10-12 home run range in pro ball. | Scouting video