Editor's Note: Insider presents the debut of MMA10, a weekly Top 10 poll of MMA fighters, trainers and coaches on a variety of topics. This week: Top 10 finishers.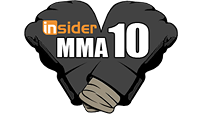 "Don't leave it in the hands of the judges." The refrain is as familiar to mixed martial arts fans as the words to "Take Me Out to the Ballgame" are to baseball aficionados. There are several ways to win a fight, but the ability to pull off a spectacular knockout or a slick submission is what separates the good from the great in this highly competitive sport.
Obviously, like all rankings, the following list is quite subjective. But this is all about the fighters who have the killer instinct. The guys who could potentially retain top position and grind out a win, but instead search for a way to end the fight right now. These guys want no part of standing in the center of the cage and waiting on the ring announcer to read the verdict of three people sitting cageside. We polled some of the most knowledgeable people in the sport to let them tell us who are the best finishers in mixed martial arts.
10. Lyoto Machida, light heavyweight, UFC | 16 points
Machida
The former light heavyweight champion is typically characterized by his elusive defensive style, but he has also developed into quite a vicious striker as his career has progressed. Machida has earned three knockout-of-the-night bonuses, and he is prominently featured on just about any UFC highlight reel ever produced. Finishing fights has been a learning process for Machida, who started his career with plenty of decision victories. He went the distance in four of his first five UFC wins, but four of his past five wins have gone by way of knockout.