Editor's Note: Insider presents MMA10, a weekly top-10 poll of MMA fighters, trainers and coaches on a variety of topics. This week: Top 10 fighting camps.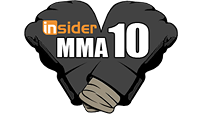 Where you train matters.
And although fighters and coaches are loyal to their brand and their camps, they recognize good competitors. For many fighters, they often train for each martial art with a different instructor, splitting time among a number of camps. However, today some of the best fight camps offer fighters one-stop shopping for all of their instruction needs.
Under one roof, they can take their Brazilian jiu-jitsu cues from one coach, boxing and wrestling from another, and Muay Thai from yet another. But finding the best camp is a balance between coaches, geography, training partners and lifestyle. UFC featherweight Clay Guida was once willing to crisscross the country in an RV for the best individual instructors. But even he ceased his journey once he found his perfect training situation in Albuquerque, N.M.
Every fighter needs a home, and these are the 10 best in MMA as voted on by a poll of MMA fighters, trainers and coaches.
10. Alpha Male | Sacramento, Calif.|19 points
An army of Lilliputians headed by Urijah Faber, the Alpha Male team has been extraordinarily successful since its inception in 2004. In addition to Faber's four consecutive title fights as WEC featherweight champ, Joseph Benavidez recently fought in the first UFC flyweight title bout in September. Likewise, teammate Chad Mendes fought for the featherweight title against Jose Aldo at UFC 142. The team is largely self-coached through Faber, although his team does depend heavily on Master Thonglor for striking and conditioning and Dustin Akbari for the team's jiu-jitsu.
Other notable fighters: Danny Castillo, TJ Dillashaw