Editor's Note: Insider presents MMA10, a weekly top-10 poll of MMA fighters, trainers and coaches on a variety of topics. This week: Top 10 MMA coaches.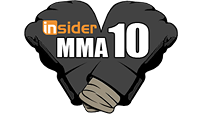 What fighters do inside the ring is often just a product of the work they put in during their training camps. Like any other professional athletes, fighters need good leadership to ensure that they are in shape, technically sound and filled with courage on game day.
Charged with preparing professional fighters are their coaches. One part strategist, one part guru and another part CEO, these men take the best athletes in the world and ready them for fight night and know them better than anyone else. They all have different styles of leadership -- some specialize in a single martial art while others are fight strategists or emotional gurus, but the results of their coaching are consistent. These guys know how to get their fighters' hands raised.
1. Greg Jackson and Mike Winklejohn | 55 points
To a man, fighters group together the duo of Greg Jackson and Mike Winklejohn like Bert and Ernie. Inseparable. Jackson has long been in the spotlight for giving raw talent the space and confidence necessary to flourish, while Winklejohn works the bags to give well-trodden fighters sharper strikes.
Good things happen under the psychological management of Jackson and the crisp technique of "Wink." Jon Jones has become a legend, while fighters like Clay Guida and Donald Cerrone have outperformed expectations to become title contenders.